Looking for Easter cookies that include meringue?
I have a handful of Easter Meringue cookies you might want to make.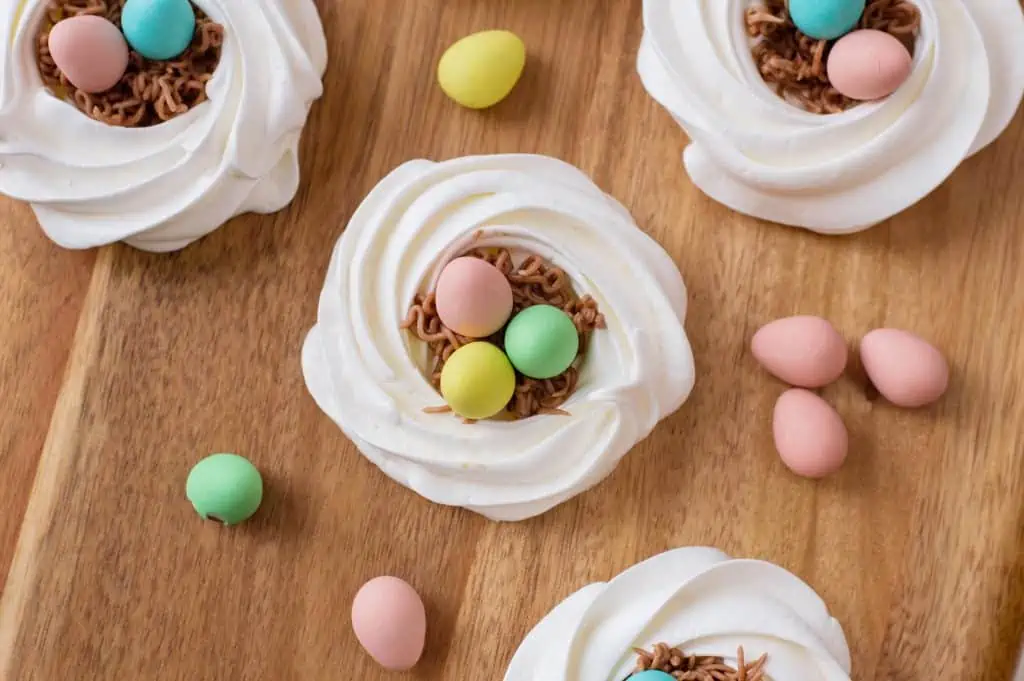 Meringue is so delicious and delicate and Easter is the perfect holiday to serve up these cookies.
Easter cookies that include meringue
Check out the recipes below and consider which ones you will be making to dress up your Easter dessert table this year.
Helpful Tips For Making Successful Meringue
Making meringue can be a little tricky, which is why a lot of people never even attempt to make it.
Here are a few successful tips for making meringue for cookies.
Every recipe is different but I find these tips helpful in any recipe that features meringue.
Fresh eggs offer the best texture. If you use old eggs you can find that it can make the meringue not turn out.
Ensure you use room temperature eggs are very helpful!
Cream of tartar when making meringue is a must in my opinion.
Superfine sugar will give you sweetness without any grit.
Follow the recipe, it is very important. Meringue is not a type of recipe you can add your own spin on very easily.
How to Store Meringue Cookies
Store meringue cookies at room temperature for up to two weeks.
There is no need to refrigerate meringue as long as you keep your cookies in an airtight container.
Storing meringue this way will keep moisture from making your meringue cookies soggy.
You may also want to add a sheep of wax paper in between if you plan to stack your cookies on top of each other. This will help keep them from sticking to each other.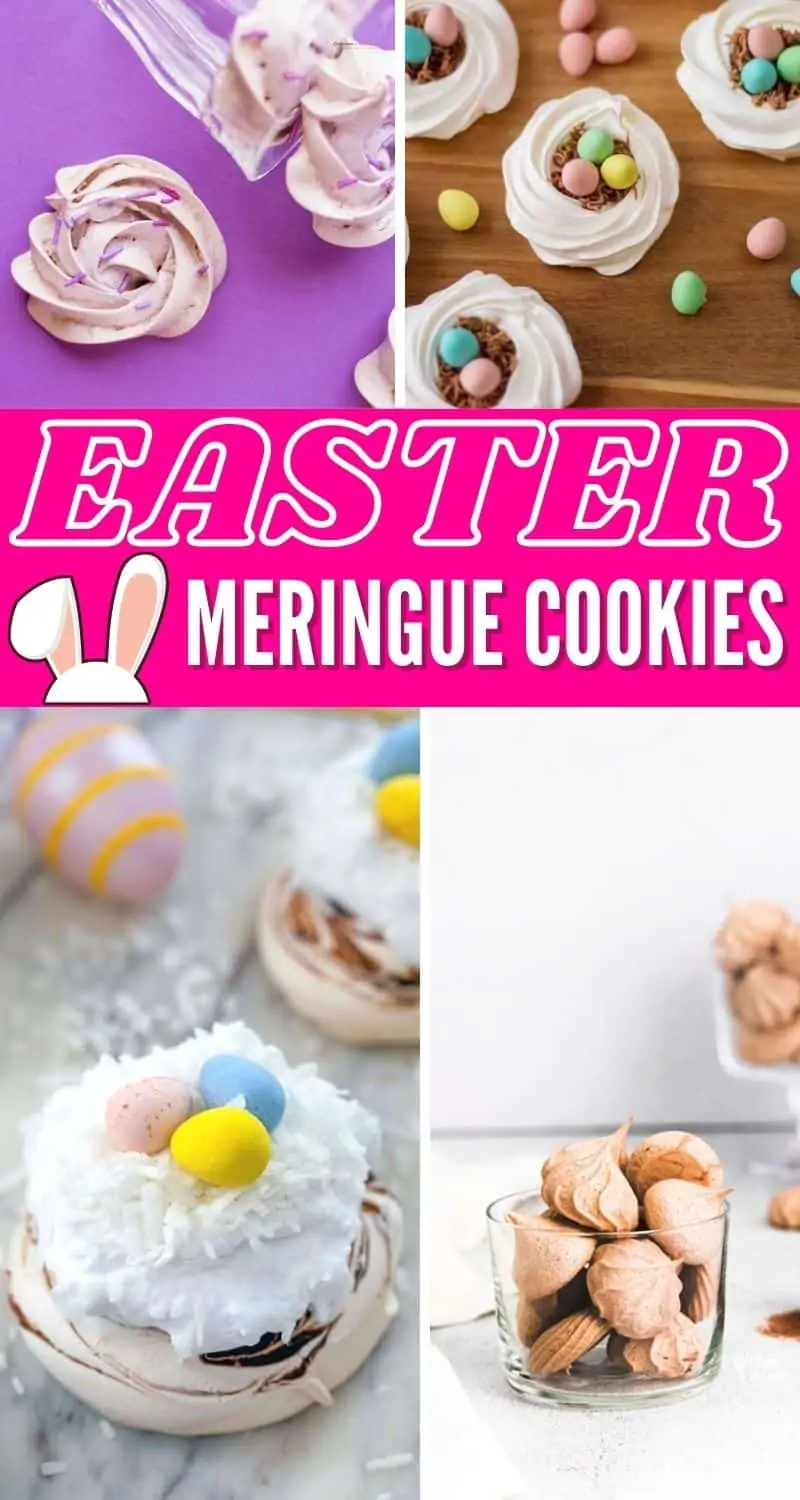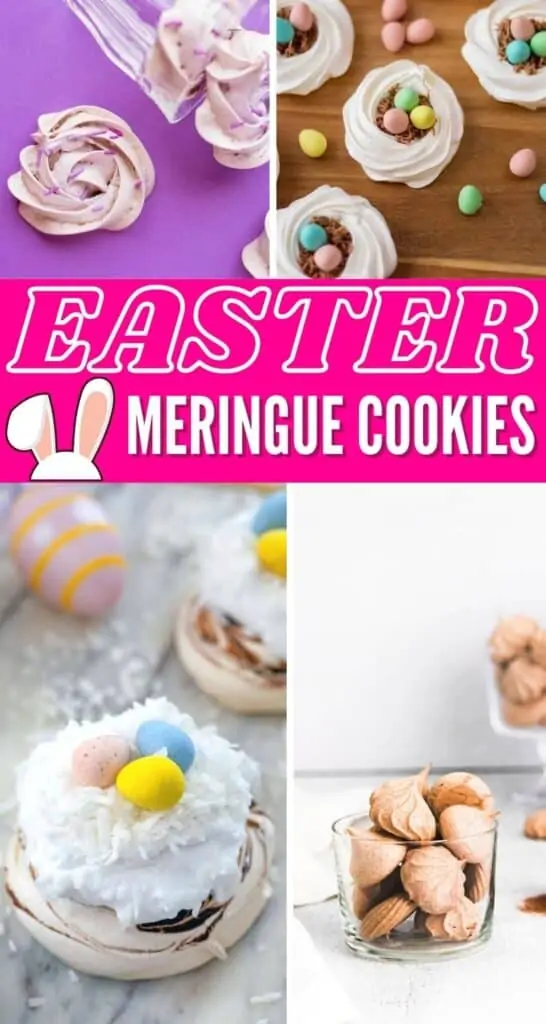 Meringue Cookies Recipes
Birds Nest Meringues – This is a classic dessert that is a swirled meringue and topped with a buttercream frosting and candy eggs.
Mini Easter Pavlovas – Chocolate swirled and topped with coconut and candy Easter eggs. Such a stunning presentation and big flavor in each decadent bite.
S'mores Meringue Cups – Here is a s'mores flavored cookie cup that is creamy and has meringue in each bite. This is an incredible dessert to try out.
Pastel Meringue Cookies – Bite-size cookies that are colorful and scream spring. The taste is perfection, and I highly recommend this recipe.
Dark Chocolate Meringue Cookies– These dark chocolate cookies are incredible. Serve as is, or make into the base of a nest to transform into a bird nest cookie.
Meringues with Hidden Chocolate – Brightly colored cookies that as you bite in, you find a hidden chocolate surprise. These are so fun to serve up.
Flower Meringue Cookies – Check out these gorgeous spring-colored cookies that are shaped like flowers. Very easy to make and such a delicious treat.
Meringue Nests – Here you have a nest you can make. Then essentially fill with any or all your favorites. Whether you make it into a bird's nest, fill with lemon curd, fresh berries, etc.
More great Easter recipes: