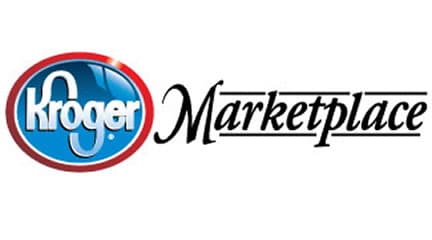 I have been hearing about the different Kroger Marketplace Stores opening up across the county and waiting patiently for the one that I had heard was coming to Michigan.
I am super excited to say the wait is just about over.  Michigan is getting their very first Kroger Marketplace Store  at 14945 23 Mile Rd Shelby Township, MI 48315.
What is Kroger Marketplace?
Along with the huge variety of fresh foods you expect, Kroger Marketplace® is the only store you need for Home Fashion and Décor, Bed and Bath, Kitchen and Small Appliances, Home Office and Toys. Offering an abundance of the items you need for every part of your life, Kroger Marketplace® is your one-stop shopping destination. Find what you need right inside and make your life a little easier.
Oh, and did I mention they have a Starbucks?!!
Some of the things you can expect to see when you step inside Kroger Marketplace include:
Murray's Cheese Shop
Murray's Cheese has been in business since 1940 and started moving into the grocery market as a way to offer cheeses to more people. It opened the first Kroger outlet six years ago in Cincinnati, where Kroger is headquartered.
Murray's Cheese is a well-respected cheese store in Greenwich Village of New York, with another location at Grand Central Terminal. At the Shelby Twp. Kroger Marketplace customers will have access to more than 200 specialty cheeses, handpicked by Murray's Cheese.
Over the past three years, Murray's has trained more than 1,000 Kroger associates in their "red jacket training" program. Kroger staffs each location with a cheesemaster and cheese associates who have received extensive cheese service training from Murray's. Before each store opening, the cheesemaster and store managers travel to New York City for on-the-ground training at Murray's Cheese flagship location.
If you don't know anything about cheese or if you know everything about cheese, it will be fun to shop at Kroger and learn from the cheese experts in the Deli department. It's a choose-your-own adventure at the cheese counter. Murray's philosophy is taste before you buy so you're welcome to swing by anytime to try a new cheese with us.
Deli/Bakery Department
The deli department offers a fresh, sushi, hot soup, and an olive island.
In the Bakery department, customers have access to a state-of-the-art, user-friendly bread slicer for fresh, Artisan bread made daily.
Produce, Floral and Natural Food Department
More than 120+ organic fruit and vegetables, and a wide selection of fresh cut fruits available.
The Produce department features a grind your own peanut butter machine (in Natural Foods department).
The Natural Food department offers a full line of Organic and Natural Simple Truth items.
In the Floral department, customers can build their own bouquet of fresh cut flowers and choose from a variety of balloons and custom gift baskets.
Baby World
Parents can find everything they need in one fast stop in the Shelby Twp. Kroger Marketplace Baby World department. The department carries a wide selection of baby basics in addition to baby food, formula, and diapers, such as baby apparel, bibs, cribs, playards, car seats, strollers, high chairs, baby swings and more. Baby items are sold at budget-friendly prices and include brands such as Graco.
Houseware Department
Customers can find all their kitchen essentials in the Houseware department, including utensils, dinnerware, small appliances, glassware and cookware. Quality brands are sold in the Kitchen Place department, including Cuisinart, KitchenAid, and Pyrex. The department also offers Dyson Vacuums and Keurig coffee makers.
Toy Department
Customers can find a wide selection of toys, games, and plush animals for all ages.
Popular brands sold, include Lego, Disney, Barbie, Nerf, Fisher Price, Preskool, Mattel, Hasbro and Hotwheels.
Apparel Department
Men's, women's, and children's apparel and shoes are available in the Apparel department.
Great style and familiar brands, including Champion, Signature by Levi Strauss & Co., Gloria Vanderbilt, Fila, Carhartt, Sketchers and more.
Fred Meyer Jewelers
Located inside the Shelby Twp. Kroger Marketplace, Fred Meyer Jewelers offers an extensive variety of quality fine jewelry, including everything from diamond bridal and engagement jewelry to brand name watches.
Also offers fun and fashionable gemstone jewelry, men's and children's jewelry and exclusive brands, collections and pieces.
This will be an interesting change for Kroger shoppers, but I am anticipating we will quickly come to love the new Kroger Marketplace!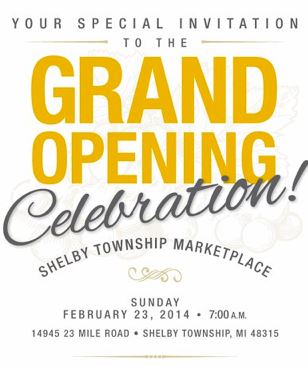 On Sunday, February 23rd you can celebrate the opening of Michigan's very first Kroger Marketplace store with several special events and giveaways.
Starting at 7 a.m.
The first 500 Customers receive a $10 Gift Card and a FREE reusable bag.
The first 100 Customers at Fred Meyer Jewelers receive a FREE gift bag.
12 p.m.
The Michigan Apple Queen will be giving away 300 FREE bags of Michigan Apples.
1 p.m.
Jay Towers and his team from WNIC are coming with great music, giveaways and the chance to win FREE trips! You could win a 3-night vacation for 2 in Riviera Maya! Includes round-trip charter air, transfers in your resort, hotel, and all meals and drinks.
This is just some of the fun things you can find happening during the special Grand Opening on February 23rd!
Saving Dollars and Sense Newsletter
I will also send you weekly encouragement in my newsletter 🙂
You are also agreeing to our Privacy Policy.