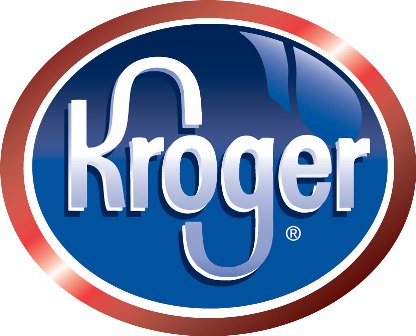 Kroger has just made the official announcement on their Facebook here.
In an effort to provide all of our customers with the most value for their dollar, we're implementing a New Lower Prices program. Effective May 14, we're reducing prices on thousands of everyday items that you and your family rely on. To make this possible, we made the decision to accept coupons at face value beginning on May 14 in Michigan. We will continue to accept manufacturer coupons and other coupons at face value, including digital coupons, e-coupons, Catalina coupons and printable coupons.
BREAKING NEWS – Kroger will discontinue the use of double coupons in more areas of the country, effective May 14th.
The rumors are flying like crazy that Kroger is planning to discontinue the double coupon program the Michigan region in as little as 2 weeks.
The writing was on the wall that this would happen when the Michigan couponing world was shocked by the announcement that Meijer was ending their double coupon program a little over a year ago. I had a feeling that once Kroger saw that Meijer could continue doing business without the double coupon program, they would join them
I warned you back in February 2013 and then again in July 2013 this would likely be coming when they began ending the double coupon program across the nation at that time. It looks like Michigan, one of the last regions still doubling, will be the next area to enter this new world of no double coupons.
Although at this point in time Kroger will not confirm that these rumors are true, and if you check their Facebook page they claim that there are no plans to change the coupon policy at this time in Michigan.
However, I have it on pretty good authority that these rumors are more than just rumors.
*Please scroll down for some other ways to save on your grocery budgets without double coupons.
BREAKING NEWS – Kroger will discontinue the use of double coupons in more areas of the country, effective May 14th.
According to Bargains to Bounty:
Kroger Coupon Policy Change
Here's what we do know:
On May 14, 2014, Kroger will change the weekly ad schedule to begin on Wednesdays (it currently begins on Sundays).
Today (May 1), there was a Michigan division meeting that included department heads and managers.
Kroger employees at various stores in Genessee County have been sharing thatALL Kroger stores will be ending double coupons effective May 14. Readers have also spotted signs in these locations. Employees insist this is a corporate decision announced at the meeting today. The new policy reads, "Effective May 14, 2014, we will accept manufacturer coupons at face value."
UPDATE: As of 7 pm on Friday, May 2, Kroger has announced on their Facebook page to make it official: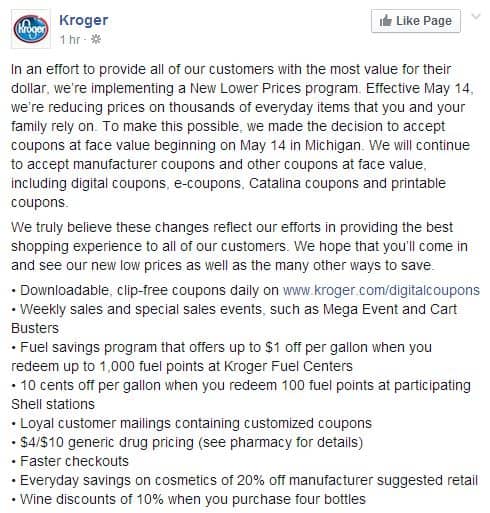 It is a sad, sad day in the couponing world here in Michigan as it looks like Kroger will take Meijer's lead and end double coupons for good.
Make sure you take advantage of their double couponing program before the new policy goes into effect on May 14.
So what does this mean to all of us Money Savers here at Saving Dollars and Sense?
Well, hopefully, it will mean we will get smarter about how to spend and save our money in new ways! I am the kind of person that doesn't like to put all my eggs in one basket 😉
Menu Planning still is my #1 money-saving tip for grocery shopping!
Drugstores still offer really great customer incentive programs that you can use to save on just about anything and I'll continue to share the drugstore deals with you!
Shopping online is many times a better deal for me than in the stores and I feel very VIP when I can have my stuff delivered to me 😉
I certainly hope that other grocery retailers do not decide to follow Kroger's lead. I know that so many of us have learned how to use double coupons properly as a way to save on our grocery budgets and it saddens me that those who weren't being ethical with coupons have hurt those of us who have followed the rules all along.
But I'm afraid to say I saw this coming back when Extreme Couponing started to blatantly show coupon fraud to everyone who watched.
Then new couponers wanted to go out and do the same thing they saw on the show.
In fact, I had plenty to say on the matter after I watched the very first show.
I am not too worried about this sad news because I know that all it means is I will need to find new creative ways to stretch our finances and I plan to share everything I find with you here at Saving Dollars and Sense just as I always have!