You'll find the perfect Pokemon gifts for the biggest fans of all ages in this Pokemon gift guide.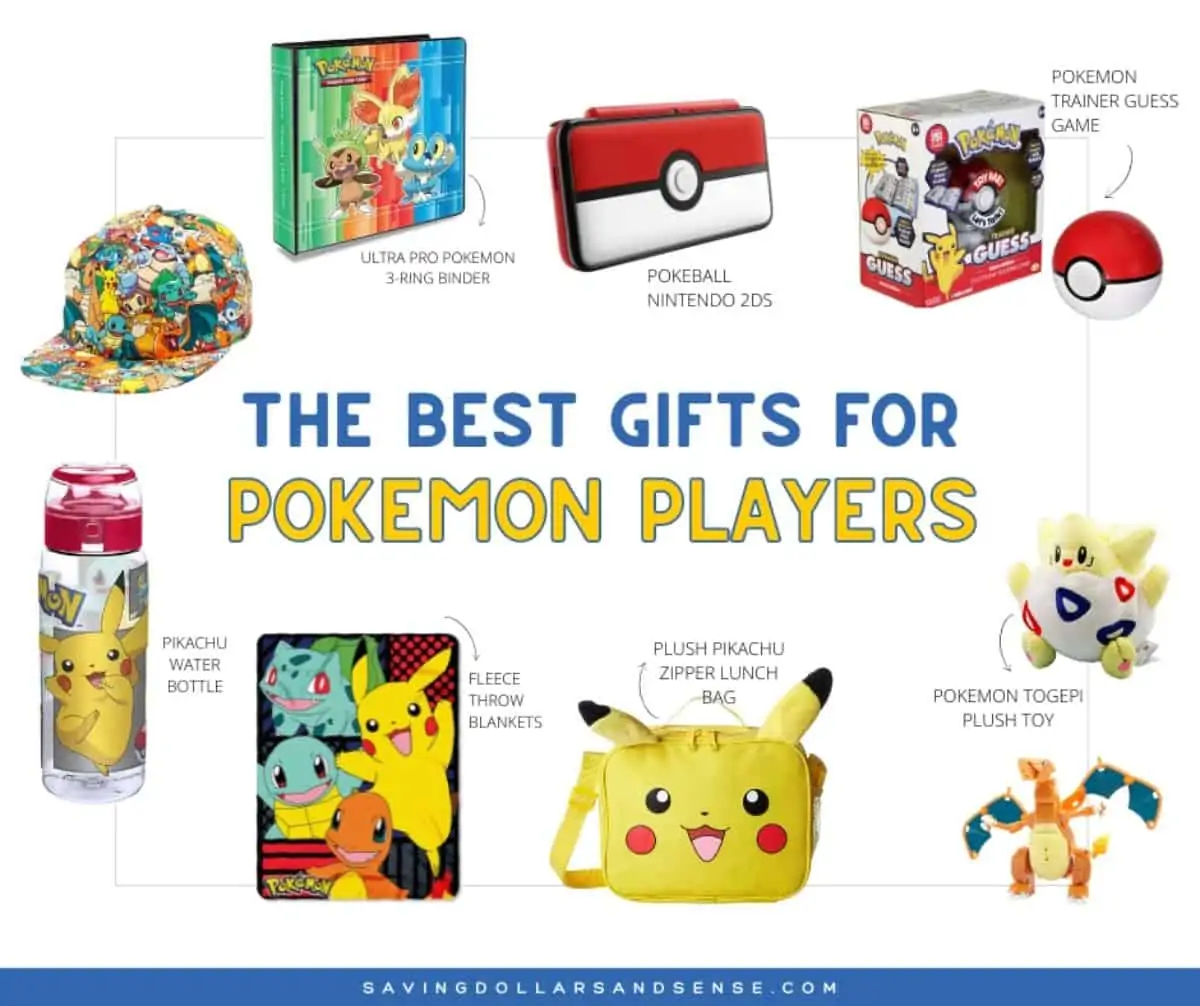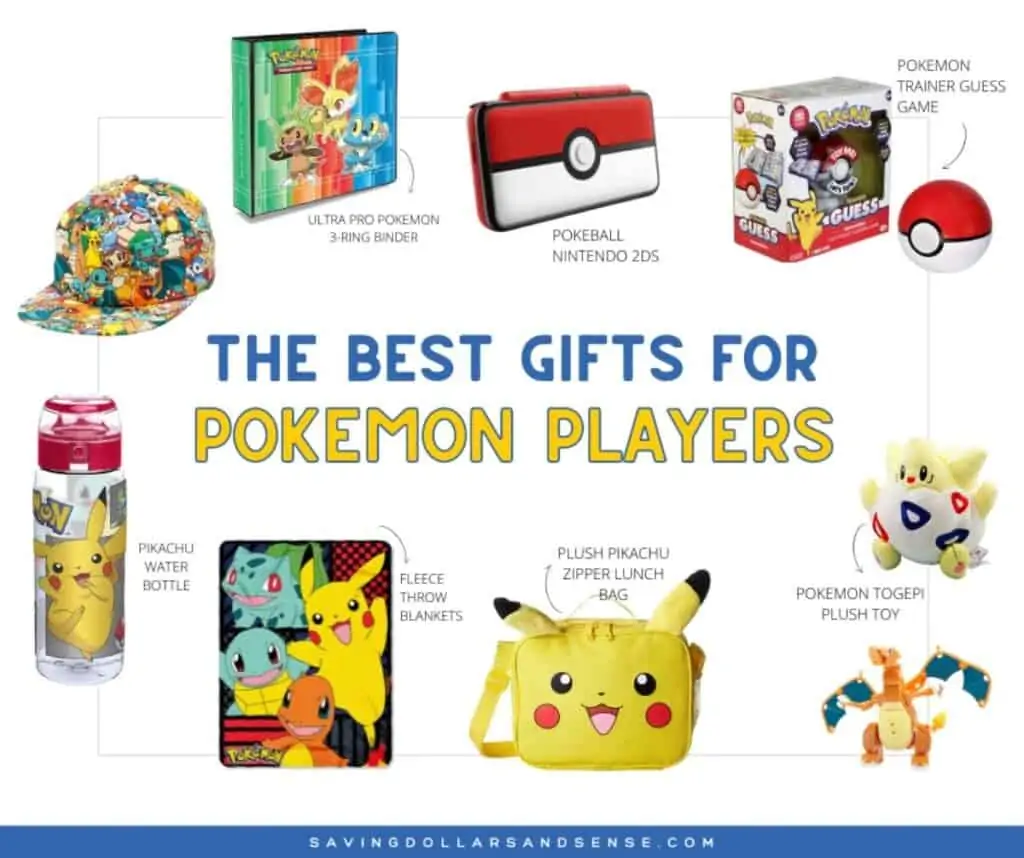 There are so many different gift ideas listed in this gift guide for Pokemon fans of all ages.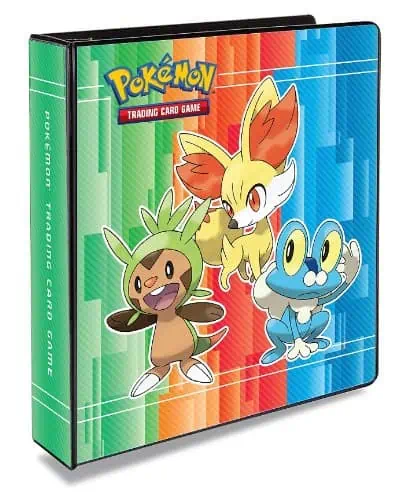 Pokémon Stock Line album with reinforced 2″ D-rings. This 3-ring album holds Ultra PRO 9-pocket pages and has a beautiful 4-color printed embedment cover. Features Chespin, Fennekin, and Froakie on the front, Xerneas and Yveltal on back. This binder is a great way to store your cards.
Test your Pokémon knowledge with Trainer Guess: Kanto Edition. Just think of a Pokémon and answer the questions. Trainer Guess will figure out what Pokémon your thinking of, Amazing! Use the included Trainer Field Guide to 'Guess' all 151 Kanto Region Pokémon and add them to your electronic collection!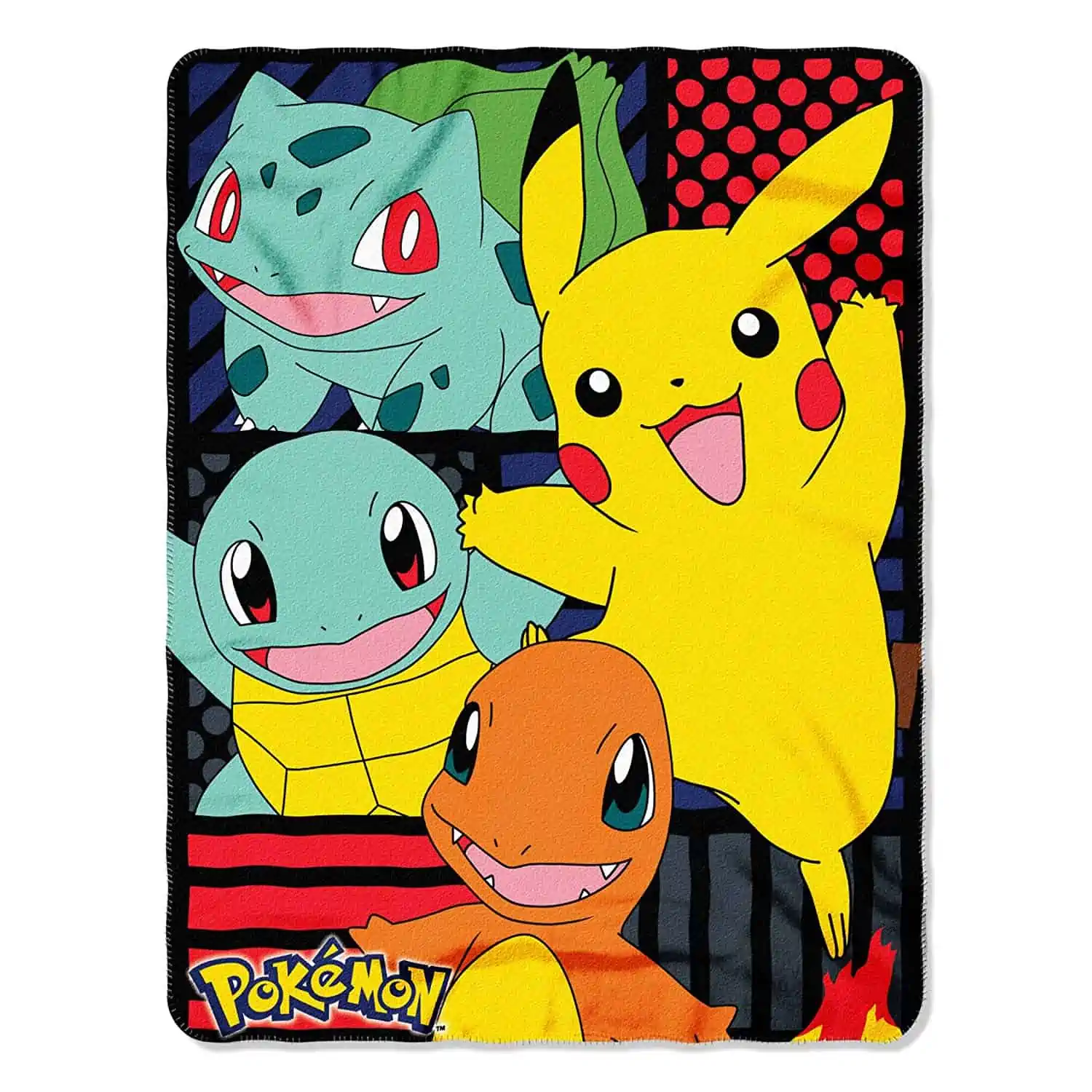 Snuggle up with this Pokémon "First Partners" Fleece Throw Blanket by The Northwest Company. This super soft and vibrantly colored throw will keep you warm every time you use it!
Bring this throw along to a sleepover, use it for a picnic, or as a bedroom accessory. Cuddle with your favorite Pokémon characters that are shown bold and welcoming on this 45-inch by 60-inch fleece throw. 100% Polyester. Machine washable.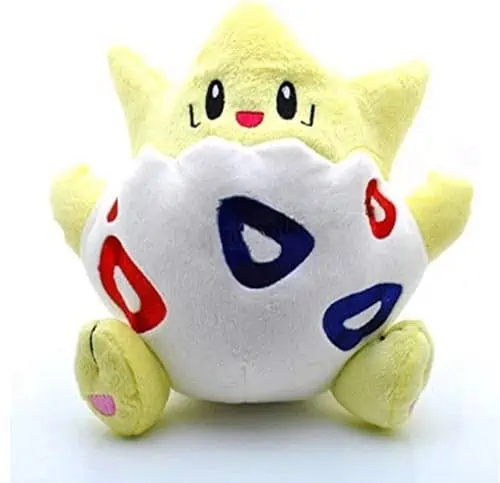 Togepi Plush Toy. 8 inches in height. Excellent present for kids and fans! Made with high-quality fabric. First-generation Poke toy plush.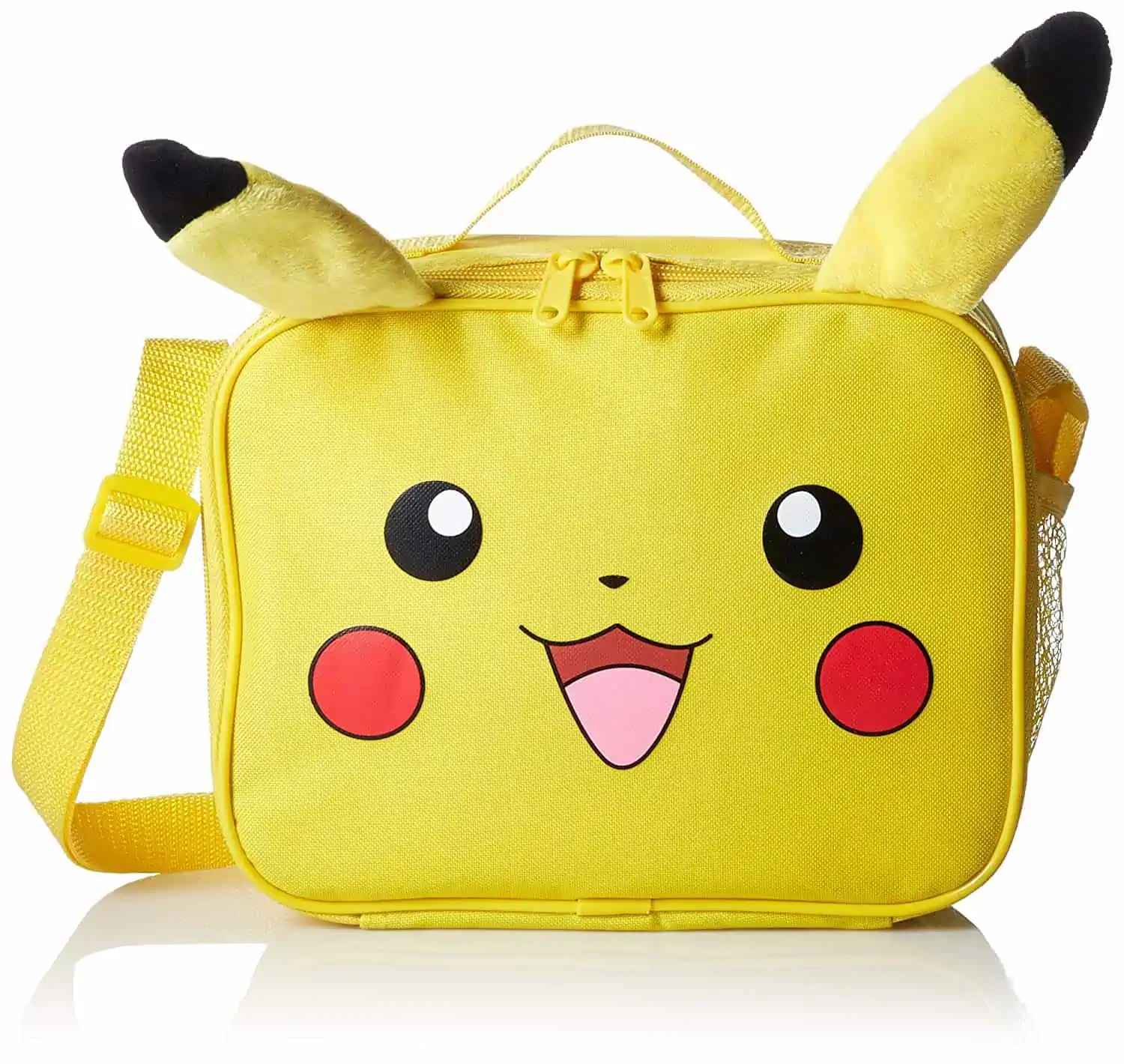 Your little one will love running off to school with everyone's favorite Pokemon character plastered on his lunch bag!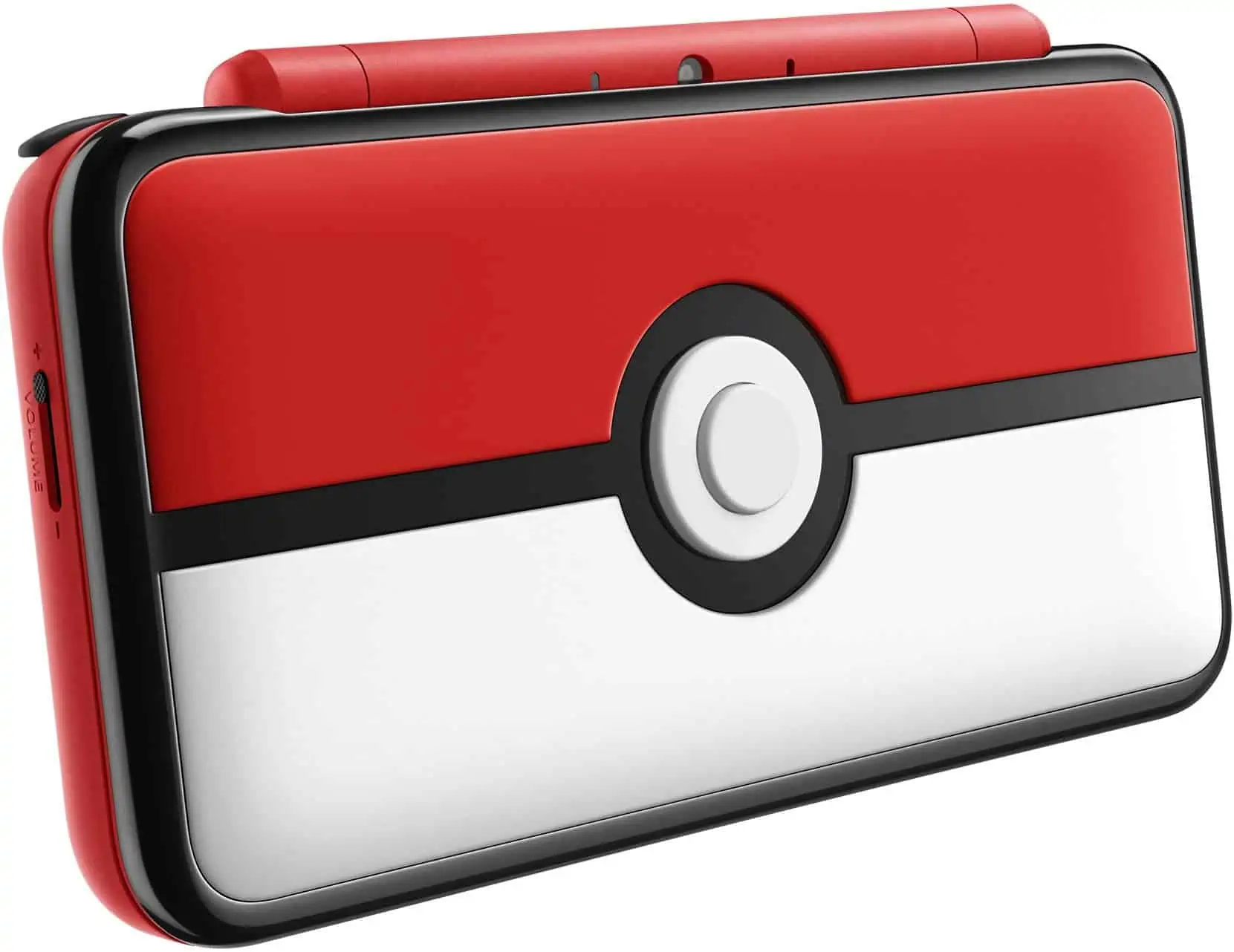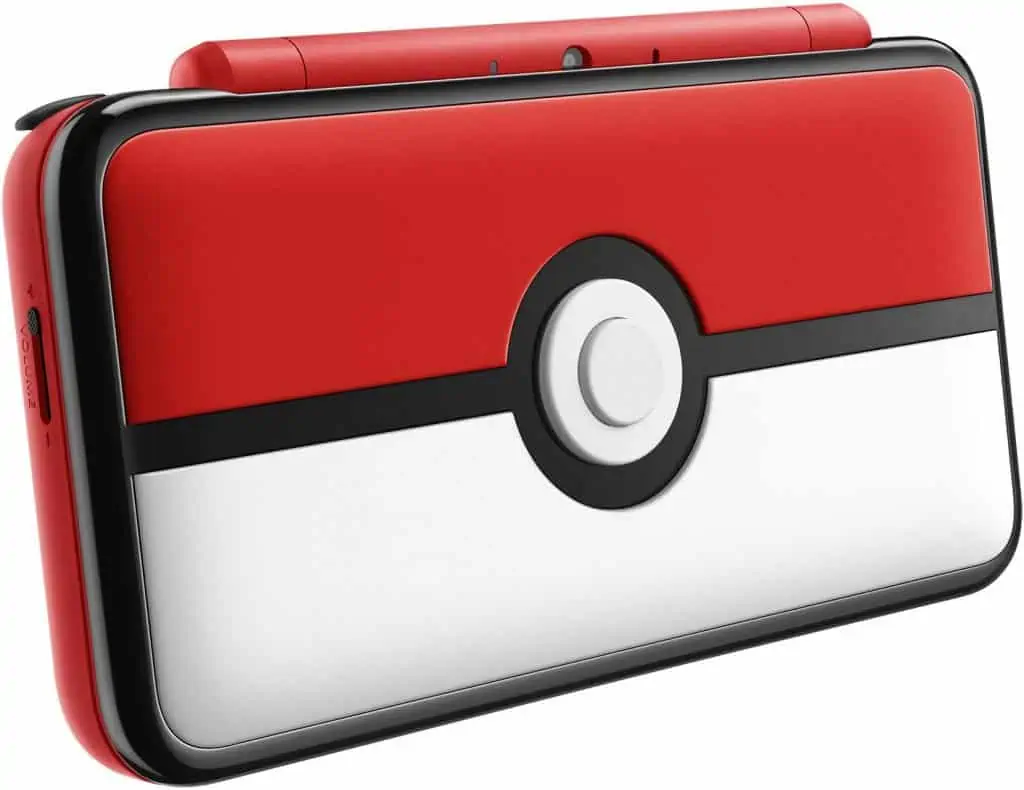 Gamers of all ages can play in style with the New Nintendo 2DS XL system. Colorful accents add style, while the sleek clamshell design makes it comfortable to hold. The C Stick brings enhanced controls (like intuitive camera control) to compatible games. You can play all Nintendo 3DS, New Nintendo 3DS and most Nintendo DS games in 2D on this system.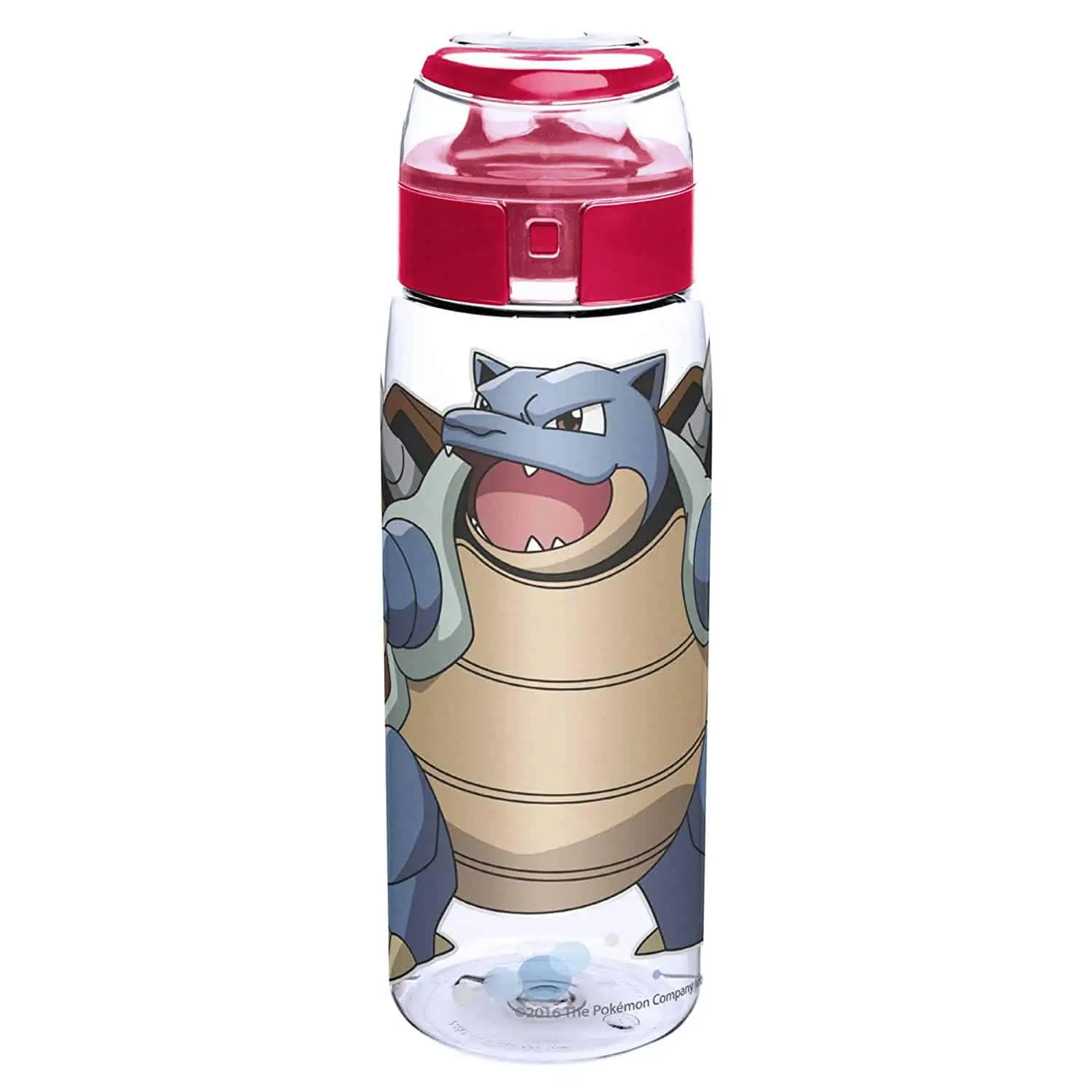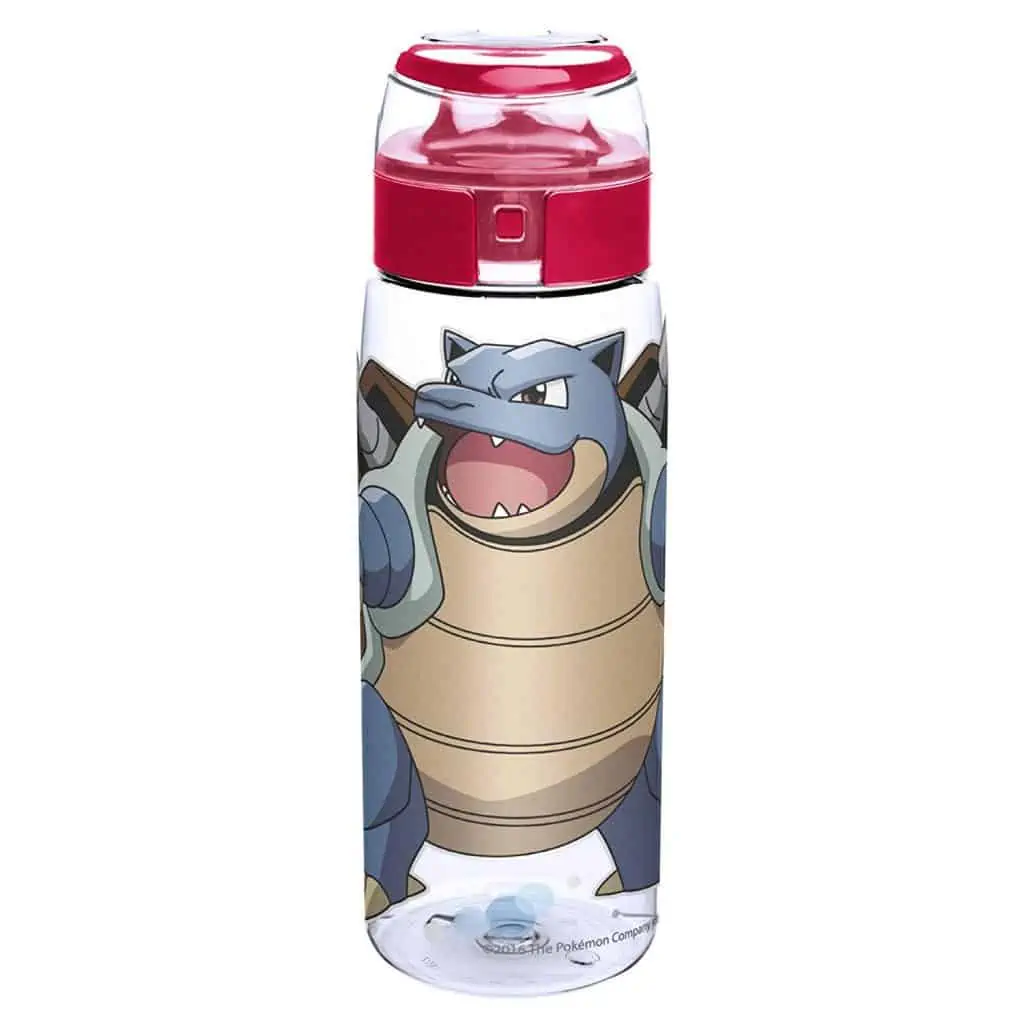 The bottle has a wide mouth that fits ice cubes for cooling down on hot summer days. With an extremely clear surface that won't craze over time, it's effortless to see the beverage inside.
The lid is made of high-impact ABS plastic, with silicone inserts over the spout and vent to make it watertight and leak-proof. The cap flips open easily and locks in place, so it won't swing around while you're drinking. This bottle is entirely BPA free and top-rack dishwasher safe. Do not microwave.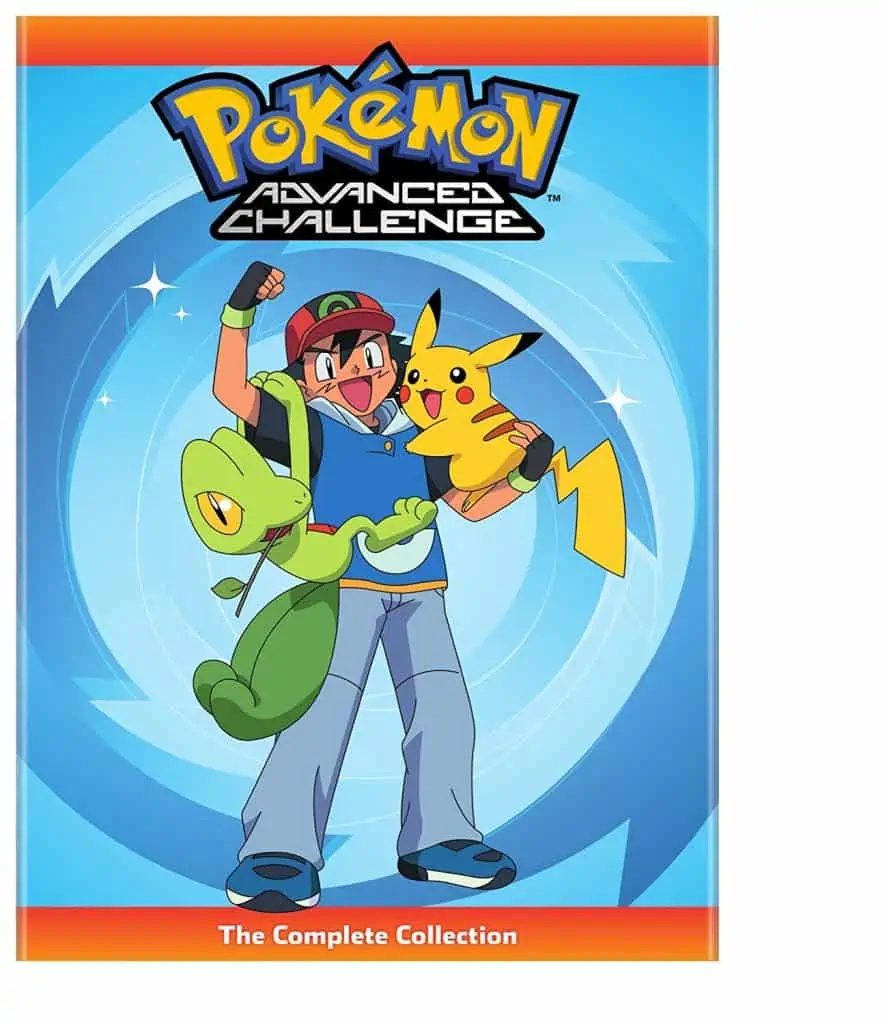 Pokemon Advanced Challenge Complete Collection (DVD). A shadow hovers over Ash, May, and friends as they continue their journey through the Hoenn region, and it's not just that of Mt. Chimney—both Team Magma and Team Aqua put plans into action with our heroes caught in the middle!
When not foiling evil schemes, Ash and May chase their personal goals, with Ash battling for three more Gym Badges and May winning her first three contest ribbons. The group also gains new Pokémon like Torkoal and Bulbasaur, but could they be too much to handle?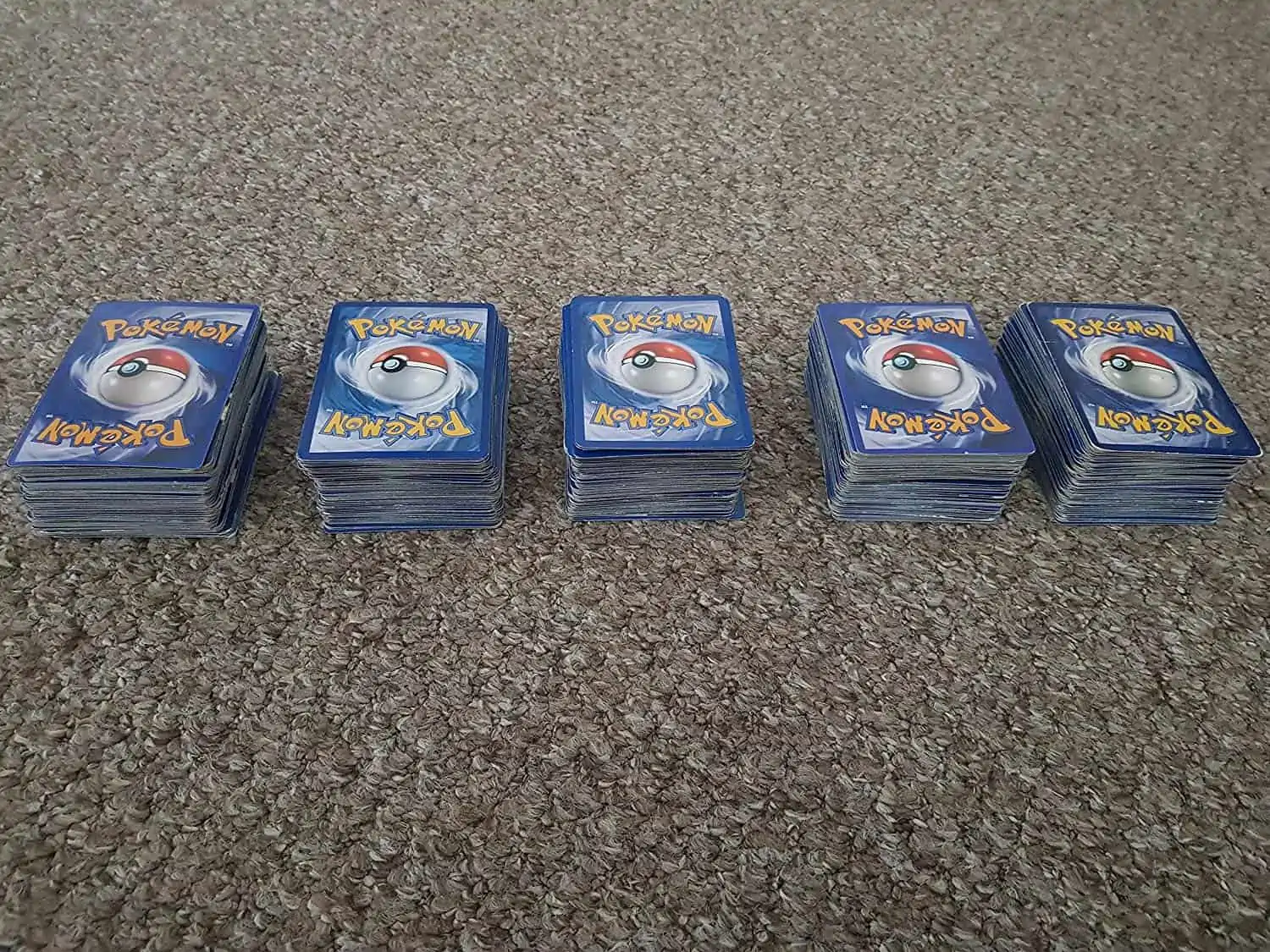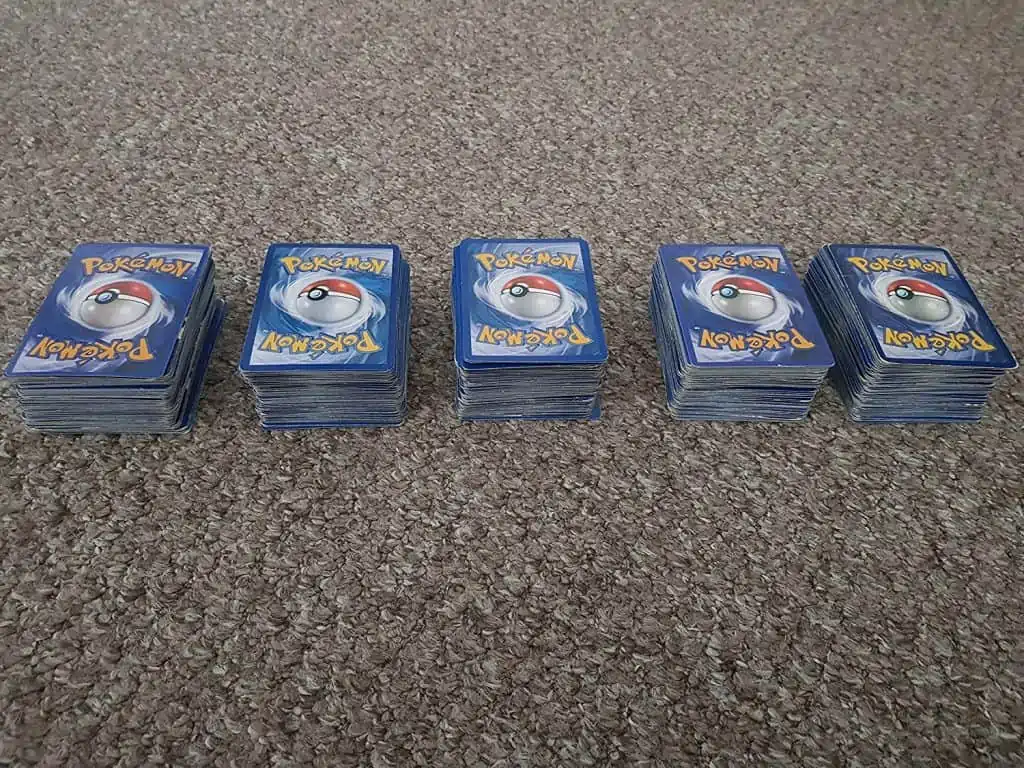 Look no further for the best deals on assorted Pokemon cards. LOTS OF RANDOM CARDS FROM ALL SERIES: You will receive a variety of regular and energy cards. Duplicates may occur. BOOST YOUR COLLECTION: With random cards from every series, each lot is a surprise.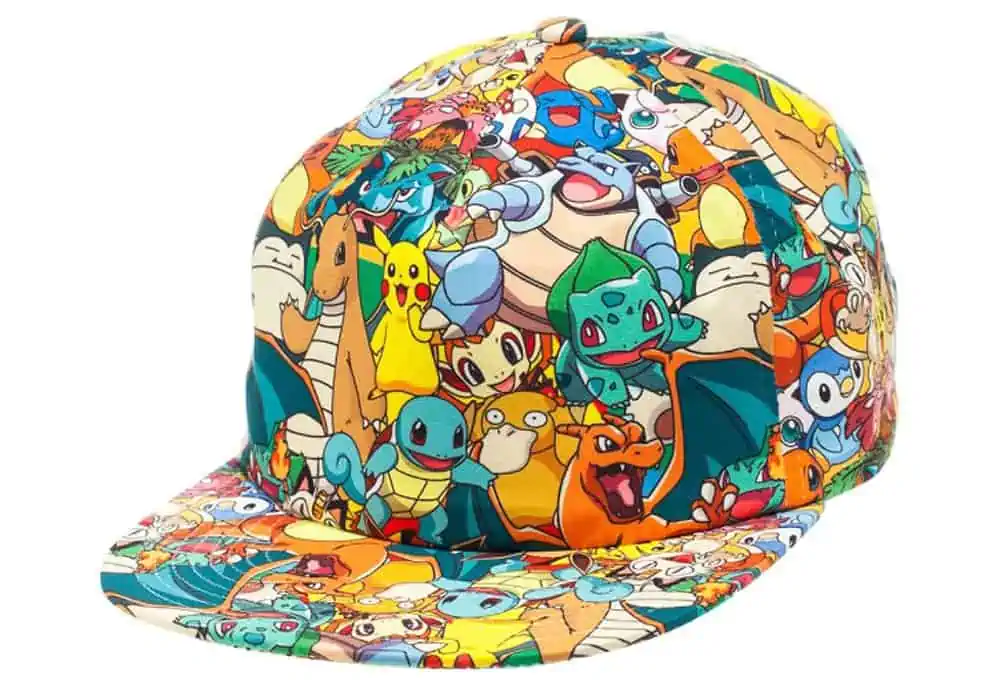 Pokemon is a media franchise owned by The Pokemon Company and created by Satoshi Tajiki in 1995. It is centered on fictional creatures called "Pokemon", which humans known as Pokemon Trainers catch and train to battle each other for sport.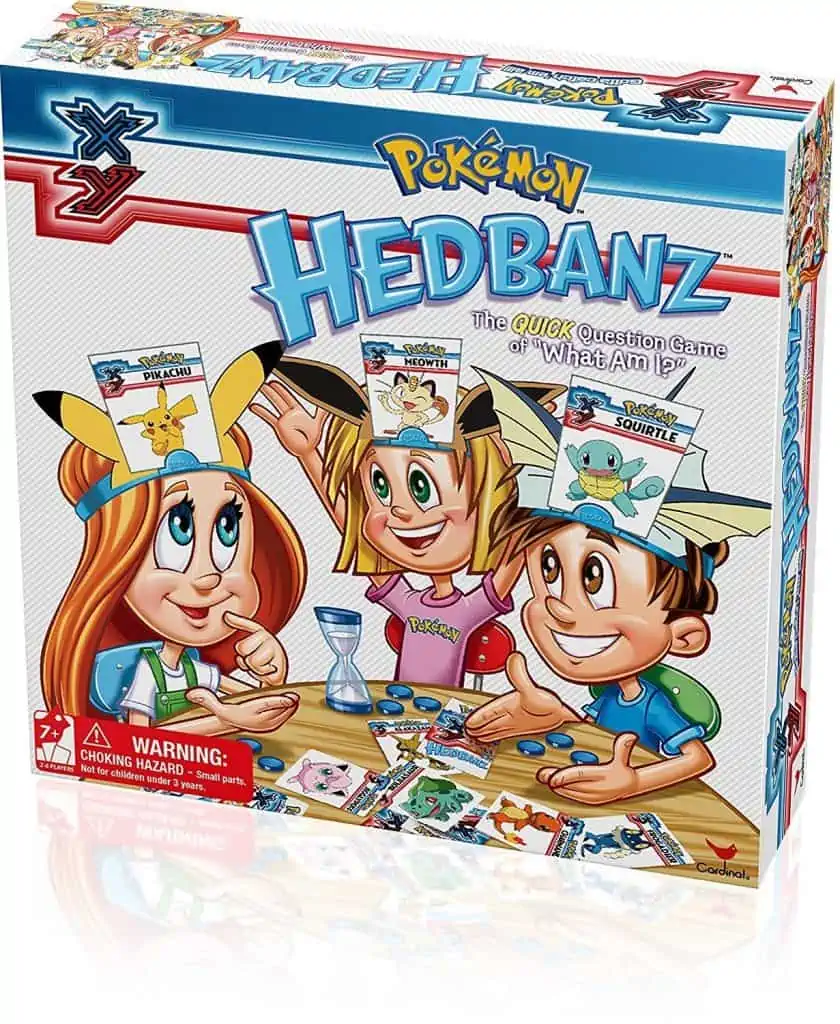 The game that's all about using your head! Discover the quick question game of 'Who am I?' featuring favorite Pokémon characters. Play the game where you never know which character you are until you start asking questions! Are you Pikachu, Bulbasaur, or maybe Squirtle? Be the first player to guess who you are and win! Pokemon Hedbanz—where everybody knows but you!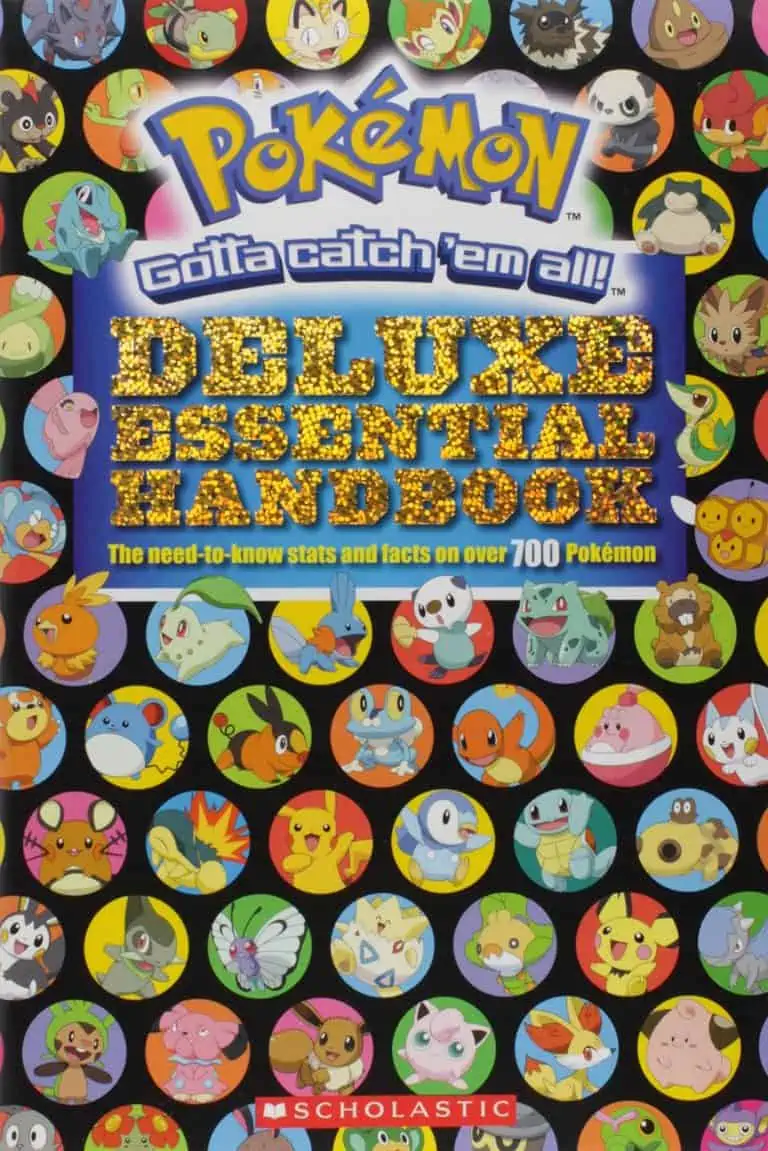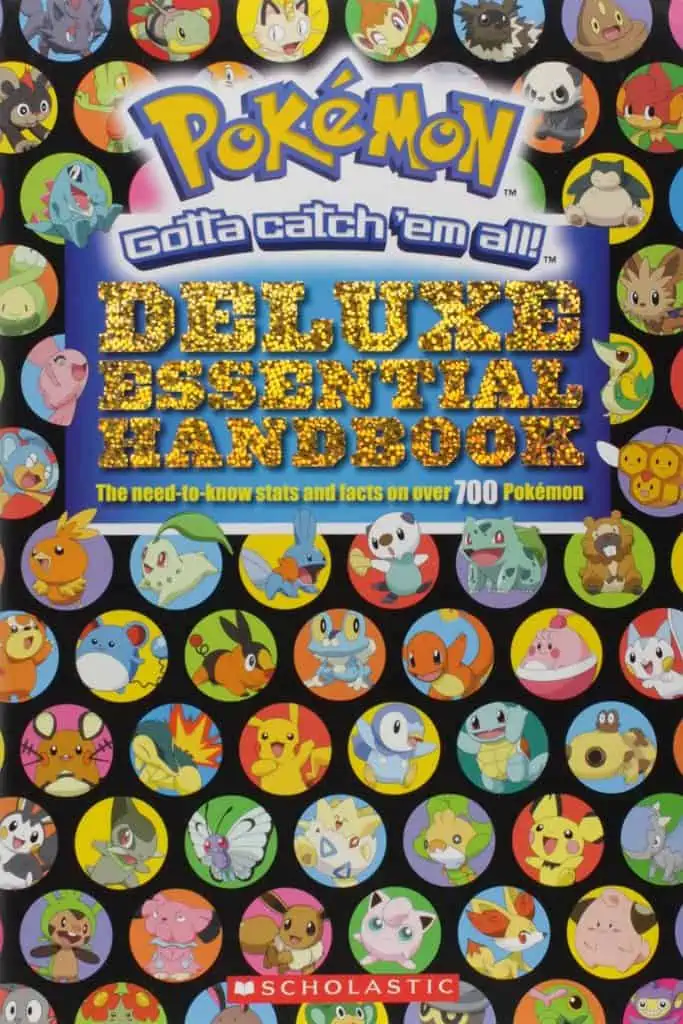 This comprehensive guide book is an absolute must-have for Pokémon Trainers of all ages! It's got all the facts and figures you ever wanted to know about Pokémon in one convenient, easy-to-read format. And it's the perfect reference for Trainers looking to master the world of Pokémon Go.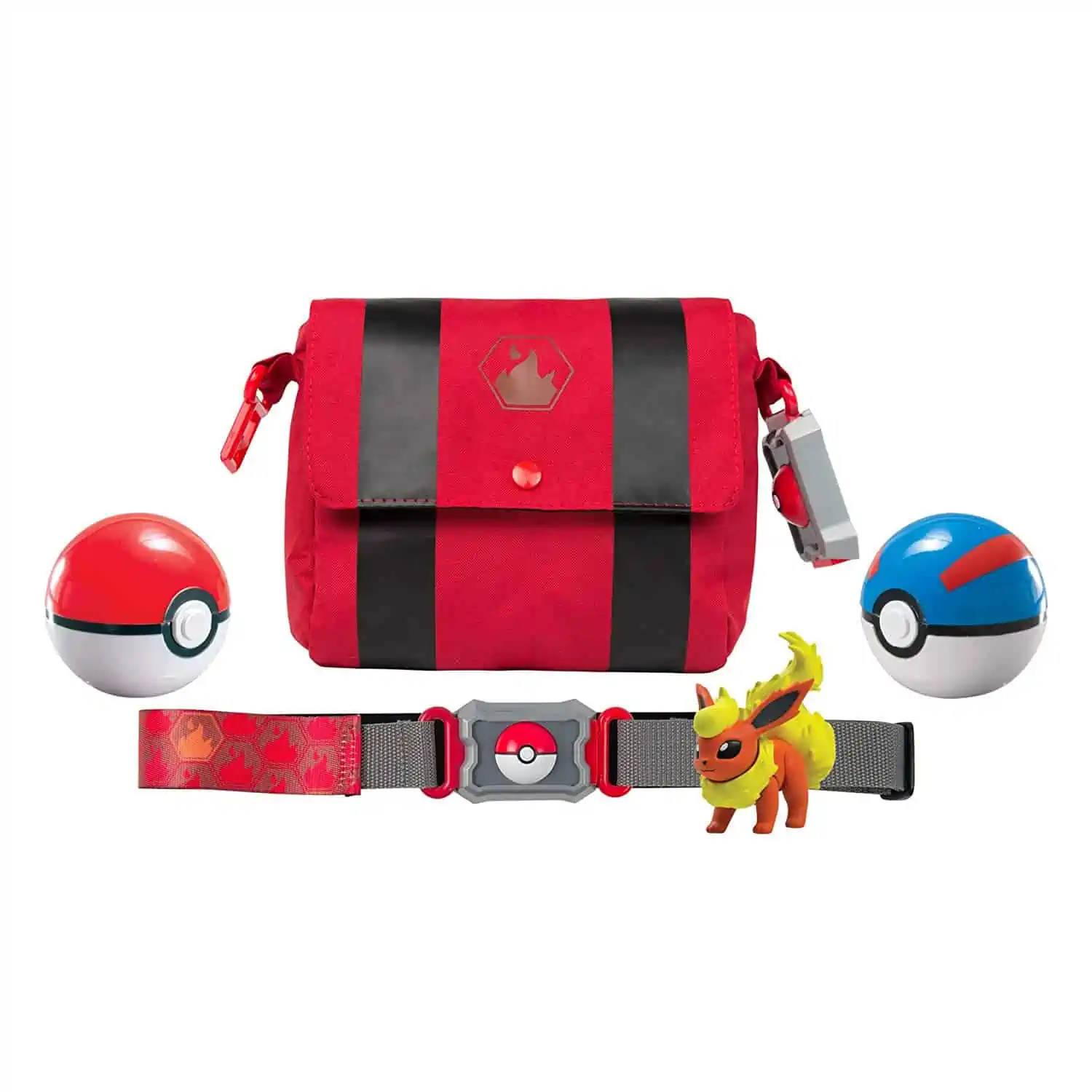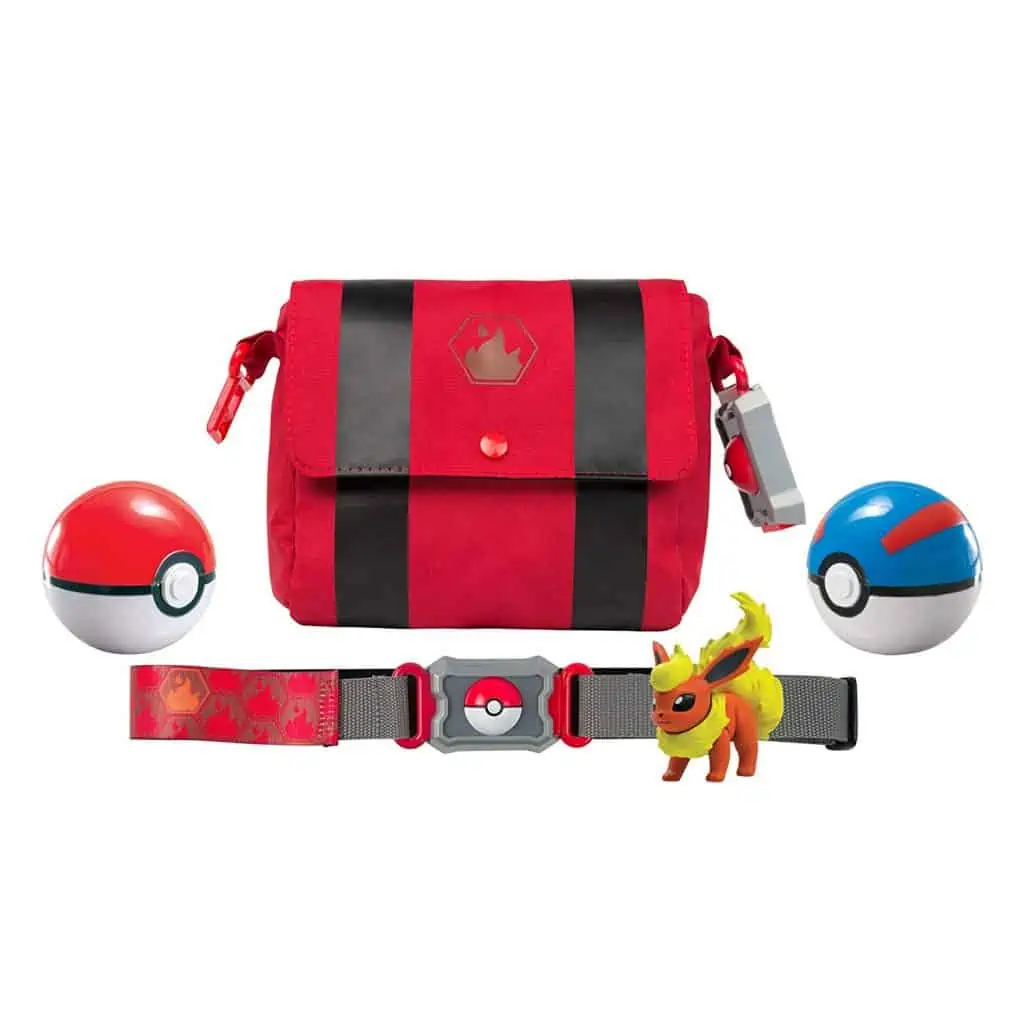 Get ready to become a Pokémon Trainer with the Pokémon Trainer Kit! The Pokémon Trainer Kit comes with a Fire-type adjustable belt, a Clip 'n' Carry Poké Ball, a Clip 'n' Carry Great Ball, and a 3" Fire-type articulated Flareon figure.
Attach the belt around your waist, or use it as a bandolier and clip on the new Fire-type pouch supplied. The pouch holds up to 6 Poké Balls and multiple Pokémon figures. It will be your best asset as you go on adventures. Additional Poké Balls and figures are sold separately.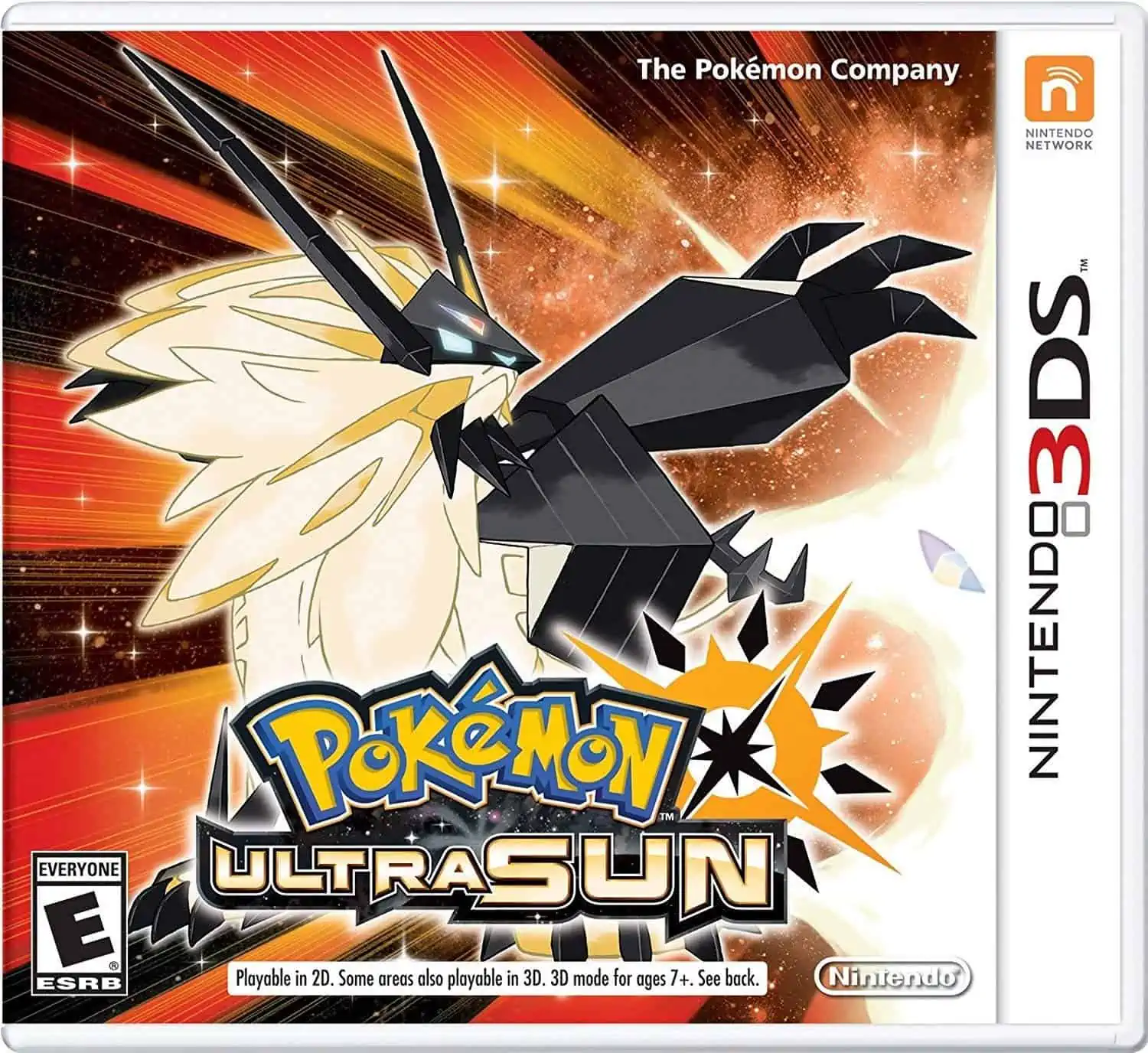 A new light shines on the Alola region! Take on the role of a Pokemon Trainer and encounter Pokemon, uncover new tales, and Unravel the mystery behind the two forms reminiscent of the legendary Pokemon.
These new titles power up the Pokemon Sun and Pokemon moon content with new story additions and features, earning them the name "ultra!" another adventure is about to begin!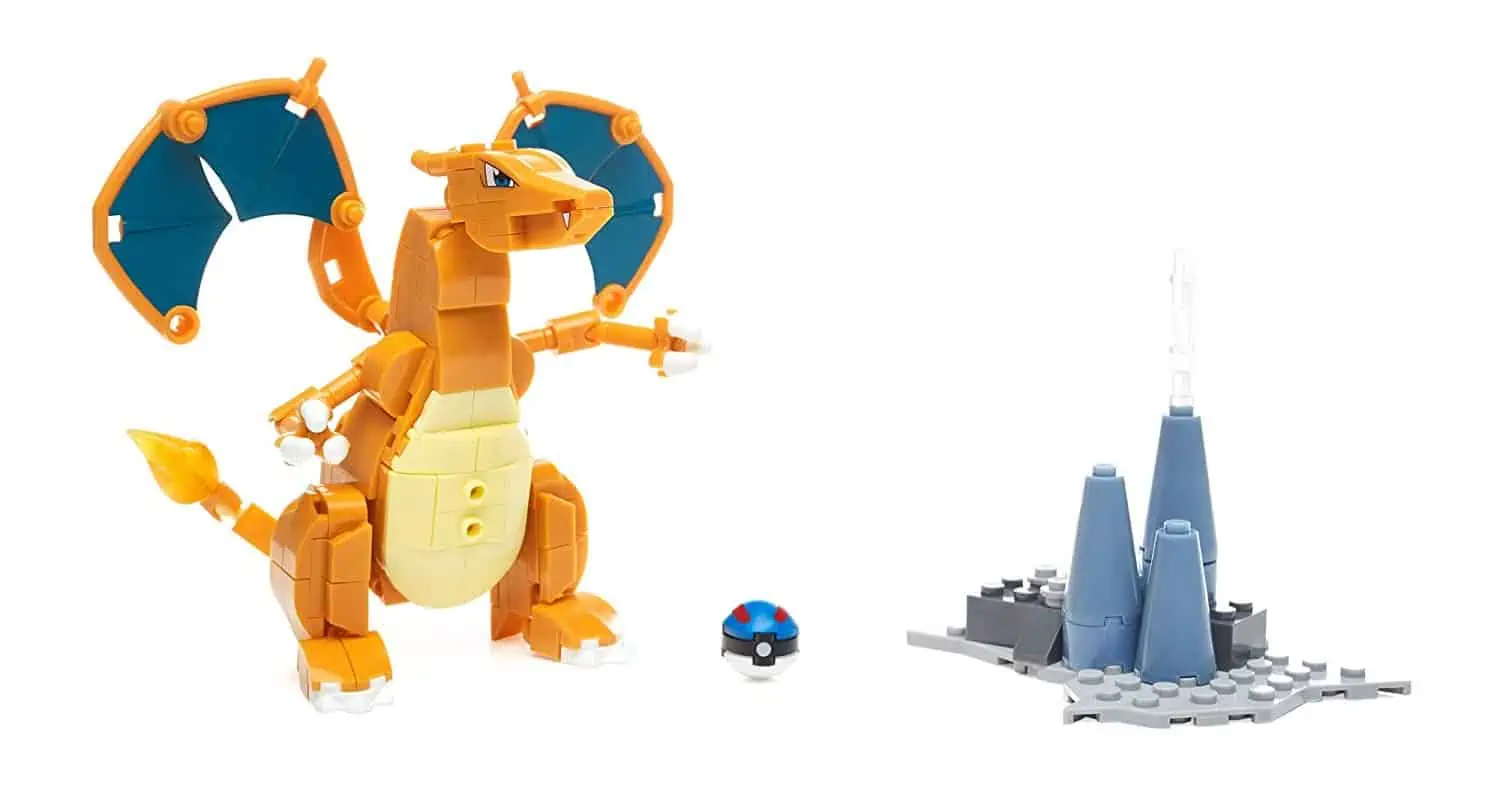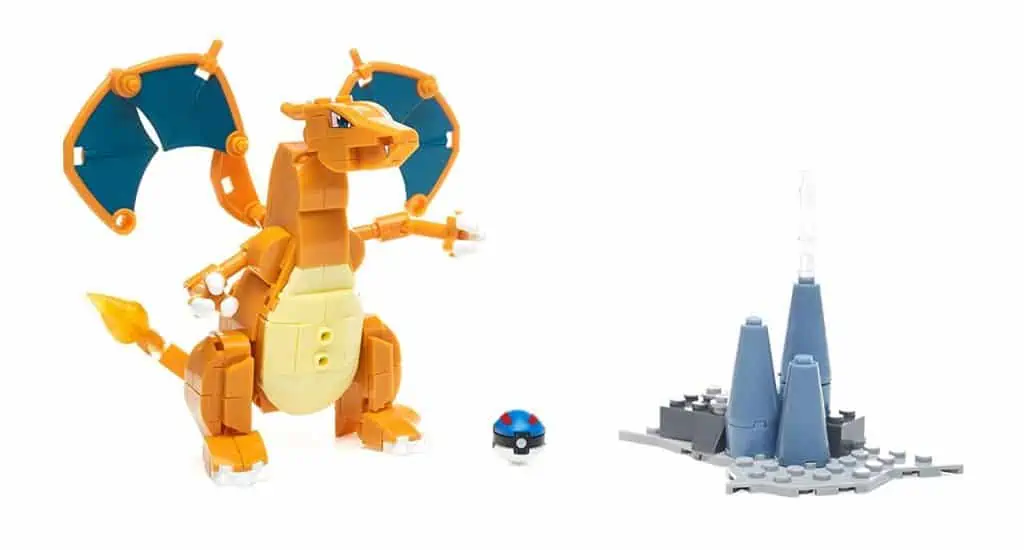 Build Charizard and take to the skies! Charizard takes wing! Blaze through the skies when you build one of the most iconic Pokémon of all time! With its powerful wings and flaming tail, Charizard stands ready for anything!
Pose Charizard upright or on the buildable display stand with wings outstretched to have it take flight, ready to swoop down for the biggest battle yet! Ideal for ages 8 and up.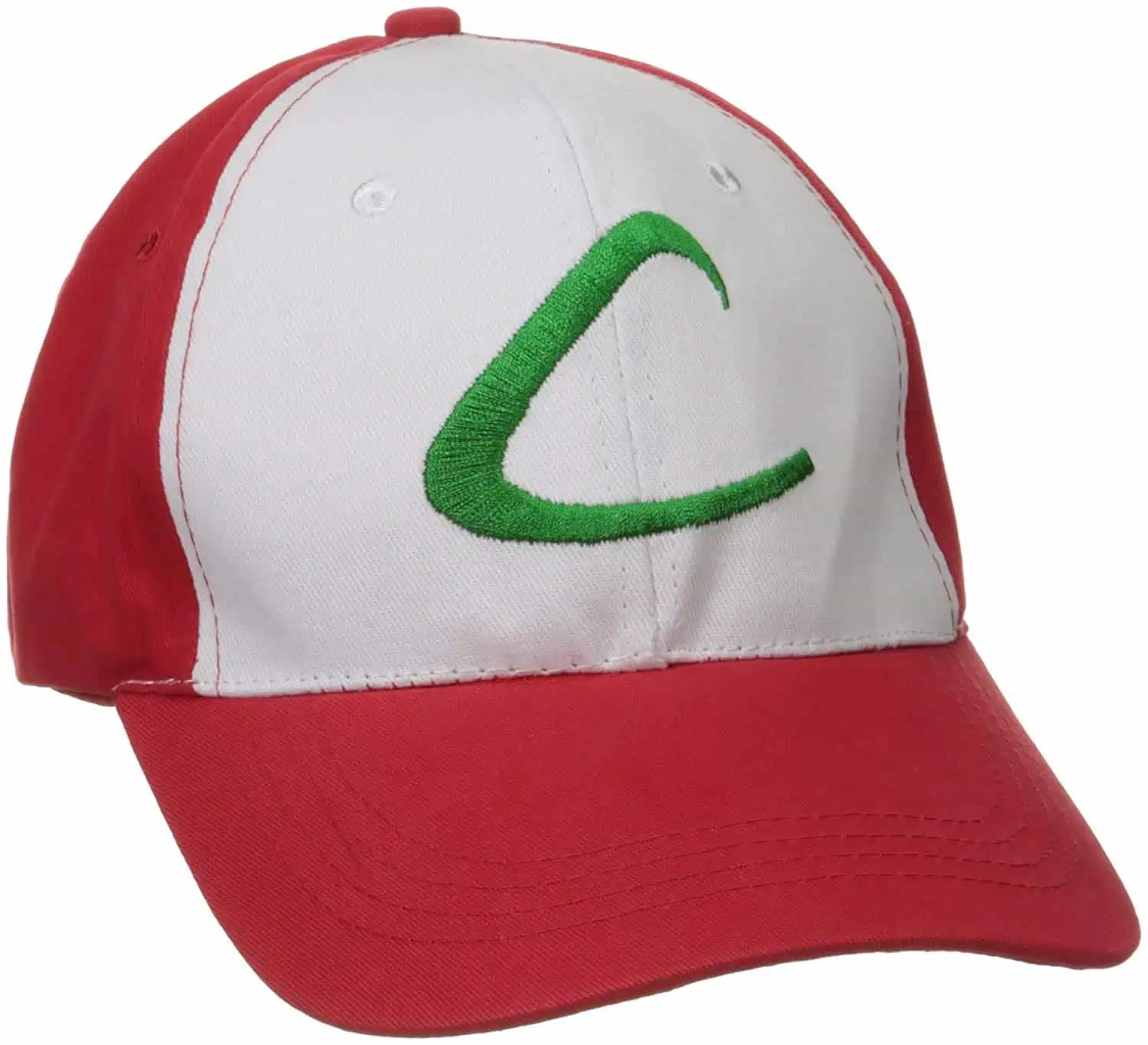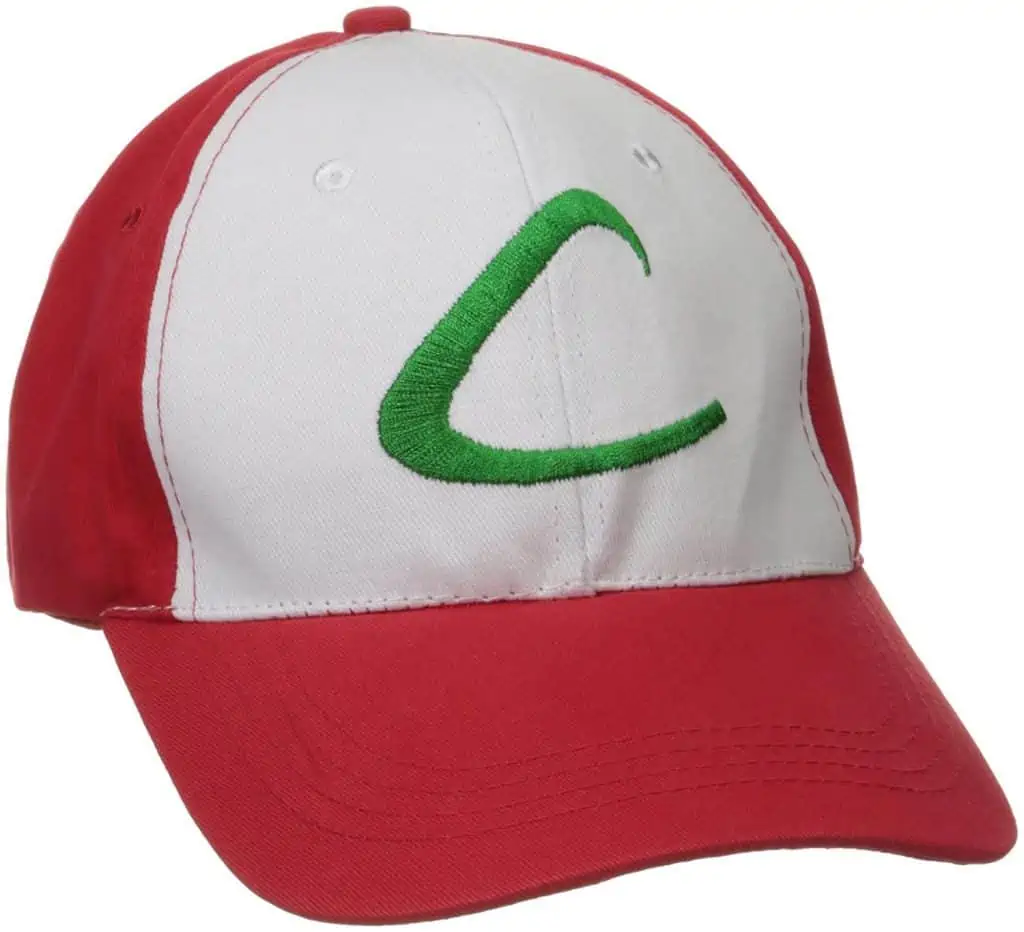 Get ready for adventure with AKNOSH caps featuring a standout two-tone look based on the POKEMON characters. Bold colors provide style, while a snapback closure offers a snug fit every time. Don't just leave the house—put on your hat and go on a Pokémon journey!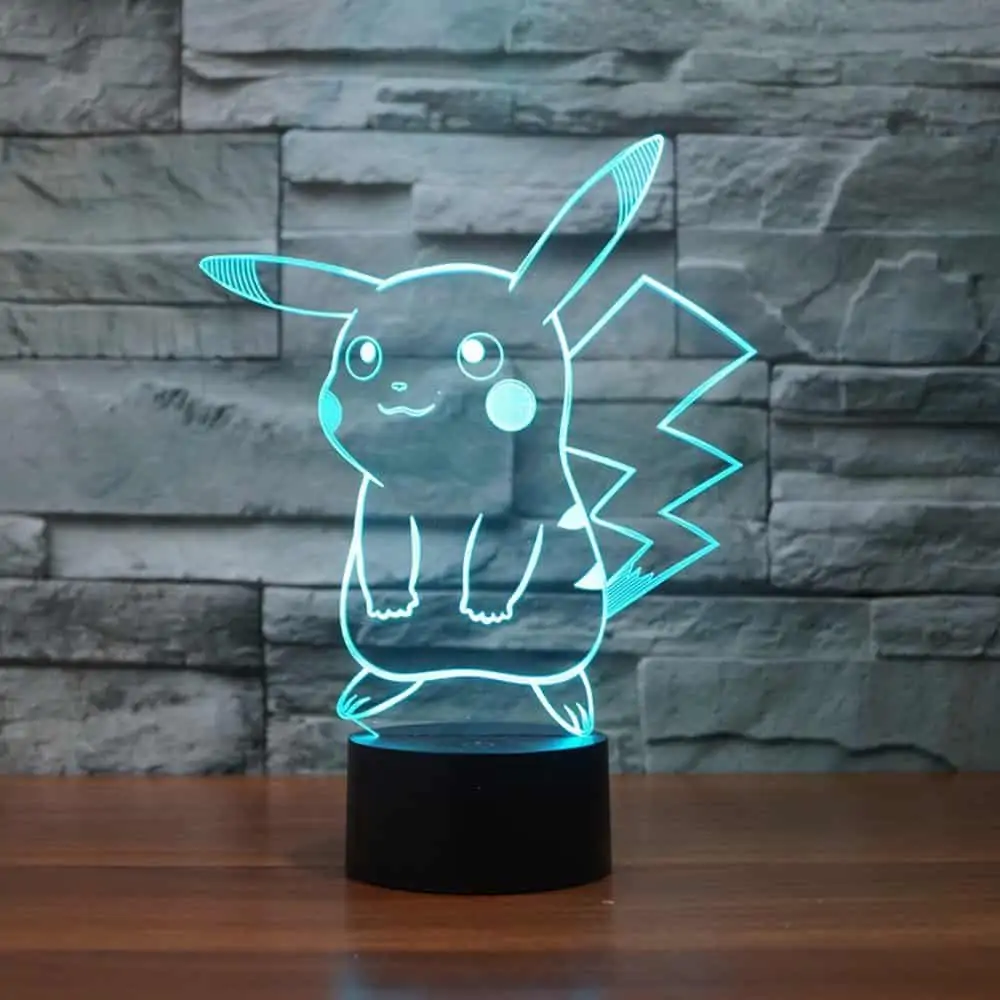 The 3D visual creative lamp is an innovative artistic atmosphere light, optical acrylic light guide plate engraving a variety of 2D graphics, 3D visual impact, led source, import SCM process control, touch-sensitive switch, single or 7 colors changing.
Widely used in various environment decorations, improve environmental artistic taste, showing warm fresh, fashion 3D visual impact.
Discover the world of Pokémon and bring it with you wherever you go with the Pokémon Carry Case Playset! With tons of features like a bounding boulder, treetop trap door, battle area, hidden cave, spinning whirlpool and more, the Pokémon World has never before been brought to life quite like this!
Using a creative laser engraved optical acrylic plate, Pikachu night light looks like a 3D etched line when lit at night and the three-dimensional illusion effect makes your room more unique and warm, helping you to sleep better!
This Pokémon 10 Figure Pack features fan-favorite Pokémon! The 2" figures come dynamically posed, the 3" figures come with articulation, and the 4.5" figure comes with articulation and a dynamic feature so you can recreate your favorite moments from the Pokémon Animated Series!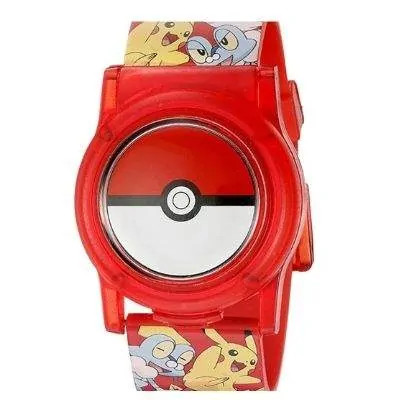 This Pokémon watch will delight any Pokémon fan who loves to accessorize. There are large Pokémon characters on the dials, straps, and box! Perfect for Pokémon fans, especially ages 4 and up.
Is someone you love on a quest to collect all of the best Pokemon cards in the world? Bolster their collection with the addition of these 50 genuine cards that span across a variety of series, multiple generations and various sets to add incredible diversity to their growing collection.
If you want to catch 'em all, you gotta read about 'em all! This revised and updated edition of the mega-bestselling Essential Handbook and Deluxe Essential Handbook has all the stats and facts kids need to know about the world of Pokémon. Essential information on over 800 Pokémon is jam-packed into 496 illustrated, full-color pages.
The Pokémon Battle Academy Bundle is a great way to get started in the Pokémon Trading Card Game. Join in the excitement that has captivated kids and adults alike for many years. This Bundle provides everything you need to get started playing and includes several additional items to enhance your Pokémon collection.
Take your Pokémon journey to the Kanto region with your partner Pikachu or Eevee to become a top Pokémon Trainer as you battle other trainers. Use a throwing motion to catch Pokémon in the wild with either one Joy-Con controller or Poké Ball Plus accessory, which will light up, vibrate, and make sounds to bring your adventure to life.
Become the ultimate Pokémon trainer with the new Pokémon Clip 'N' Go Bandolier Belt Set! Able to be easily worn on the waist and over the shoulder, the Clip 'N' Go Bandolier Belt set is not just an easy way to hold up to 6 Clip 'N' Go Poké Balls, but it opens up to reveal a battle mat for all of your favorite 2" Pokémon figures to train on! This Clip 'N' Go Bandolier Belt Set comes with 1 Belt, 1 Bandolier, a Clip 'N' Go Poké Ball, a Clip 'N' Go Luxury Ball, and 1 2" Pikachu figure!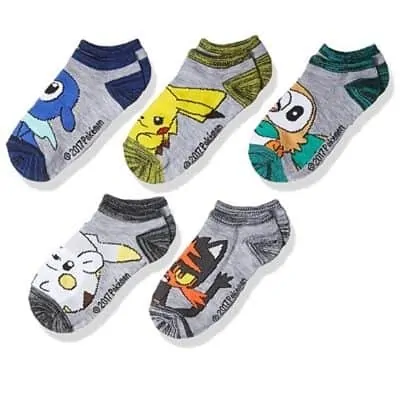 Your child will love these stylish Pokemon socks with their favorite characters from the show! You'll find a variety of styles, colors, and characters, so your child can show off their favorite Pokemon.
This Pokémon "Kanto Favorites" Twin Bed in Bag Set by The Northwest Company is the perfect way to show off your true fan style when you're drifting off in bed! You'll be sure to get the best night's sleep in this twin bed set! Twin bed in a bag set includes 1 comforter (64″ x 86″), 1 flat sheet (66″ x 96″), 1 fitted sheet (39″ x 75″ + 12″ pocket) and 1 pillowcase (20″ x 30″)
Ash heads toward his next challenge—the far-off Hoenn region! While he must say goodbye to old friends, he makes the acquaintance of May, a Trainer just starting out on her Pokémon journey. Along with her little brother Max and the ever-reliable Brock, this pack of Pokémon Trainers begin pursing their dreams—with Ash racking up three Gym Badges, while May changes tack to follow the Contest path of a Pokémon Coordinator.
This super soft Pokemon fleece throw blanket will become a favorite to wrap up in and keep warm all winter long. Your Pokemon fan will find all of their favorite characters as they snuggle up with their trading cards.
Prove you have the heart of a champion and prepare to face the strongest Trainers the Galar region has to offer! The Pokémon TCG: Champion's Path Elite Trainer Box will equip you with the necessary tools to go on a journey worthy of a champion Pokémon Trainer. Whether you seek knowledge, experience, or an opportunity to enhance your collection with a stunning Charizard promo card, the Champion's Path Elite Trainer Box is a prize worth fighting for.
The All-New eKids Pokemon Pikachu kid-friendly headphones are here! Listen to whatever you like in safety comfort and style. These high-quality headphones are equipped with a volume limiting switch to ensure safe sound levels for kids.
This book is ideal for children to help keep them busy and boost their creativity doing something they love. In this coloring book, you'll find their favorite Pokemon characters of all time, 45 pages of large print figures, endless fun for children

We have lots more Gift Ideas for you too!
Check out the list of the best gift ideas for everyone else on your list too!
You could find the perfect gift for everyone and have all of your holiday gift shopping done today.
Check out all of our Saving Dollars and Sense Gift Ideas below:
We also have a fun list of the best Homemade Food Gift Ideas if you'd rather make your own gifts this year.