We have all of the best LEGO Gift Ideas for you today!
Kick up the flavor and t LEGO building love in your kitchen with supersized 1-stud LEGO brick shakers in classic black and white! Features 2 LEGO 1-stud brick shakers, upscaled 600 times, in black and white. Spice up your kitchen with a super-sized LEGO style!
Power up LEGO Technic creations with this Power Functions Motor Set! Includes a medium motor, battery box, switch and a light cable with 2 bright LEDs. Switch and cable measures over 9" long. Switch (including orange switch) measures over 1" long and 1' high and 1" wide.
Battery measure of 2" high, 3" wide and 1" deep. M-Motor measure over 1" wide and under 1" high and 1" deep. M-Motor and cable measure over 10" long. Light cable measures over 15" long.
Design and build 10 amazing moving machines – teach your bricks new tricks. It comes with 80-page instructions, 33 LEGO pieces, Instructions for 10 modules, 6 plastic balls, string, paper ramps, and other components.
Includes an 80-page instructional book with Klutz certified crystal clear instructions and more than 30 essential LEGO elements.
Officially licensed LEGO Ninjago Lloyd torch lamp is the perfect size to either hold or place on a nightstand, desk or table. LED Light-emitting angling legs can stay on for up to 30 minutes with auto-off feature.
Pose-able arms, legs, and head allow you to create your favorite Lloyd Ninja poses, and direct the light to where you need it!
Ergonomically padded, contoured shoulder straps have a reflective brick detail. Soft poly tricot on shoulder straps & padded haul handle makes transport comfortable. An adjustable front sternum strap helps balance the load with an easy click.
Iconic LEGO Star Wars Stormtrooper Mini-figure alarm clock. Digital LCD. 9.5 inches tall. Moveable arms and legs. Alarm and snooze functions. Light up display.
Iconic LEGO Blue brick alarm clock. Digital LCD. 2.75 inches tall. Moveable stud for light and snooze activation. Alarm and snooze functions. Light up display.
LEGO characters from a mix of some of the best brands in the universe join forces and battle in worlds outside of their own. A Dark Knight, a Wizard, and a LEGO Master Builder traveling together down the Yellow Brick Road is just the beginning.
Players can let imagination guide their solo journey or have a friend join the adventure with co-operative, drop-in/drop-out play. LEGO Dimensions is a system of play that offers continued compatibility – everything bought today or expanded with tomorrow will continue to work.
Includes real LEGO blocks so you can connect and organize your markers! Writes in nine colors, including Red, Orange, Yellow, Light Green, Green, Light Blue, Blue, Brown, and Black. Connect your favorite Mini-figure to the building bricks!
State of the art lighting products armored in a classic LEGO form. Poseable head, arms, and light angling legs. It comes with a velcro head strap.
Officially licensed LEGO adult t-shirt.
Drink your Coffee out of something fun and creative. Great gift for someone who loves Legos. The Brick mug does not come with any bricks.
Package includes one Twin/Full 72×86 inches comforter. Fabric is 100% polyester microfiber. The comforter features a large image of batman. Machine washable. This Twin/Full comforter fits both a standard Twin or Full-Size bed.
This official LEGO food container is full of true LEGO DNA and will make lunchtime or family picnics truly awesome. The box can also function as a portable storage box/carry case for LEGO bricks, LEGO Mini-figures or other toys. Perfect for weekend sleepovers at friends or grandparents.
Discover new and creative building ideas, tips, and tricks for your LEGO® bricks with this #1 New York Times bestseller. With more than 2 million copies sold worldwide, The LEGO Ideas Book is perfect for LEGO fans of all ages.
Buildable children's LEGO watch. Includes iconic LEGO mini figure built into bracelet. Multi-colored, interchangeable watch links. 12 Additional watch links, two mini-figure link faces included. Expandable watchband to fit most wrist sizes.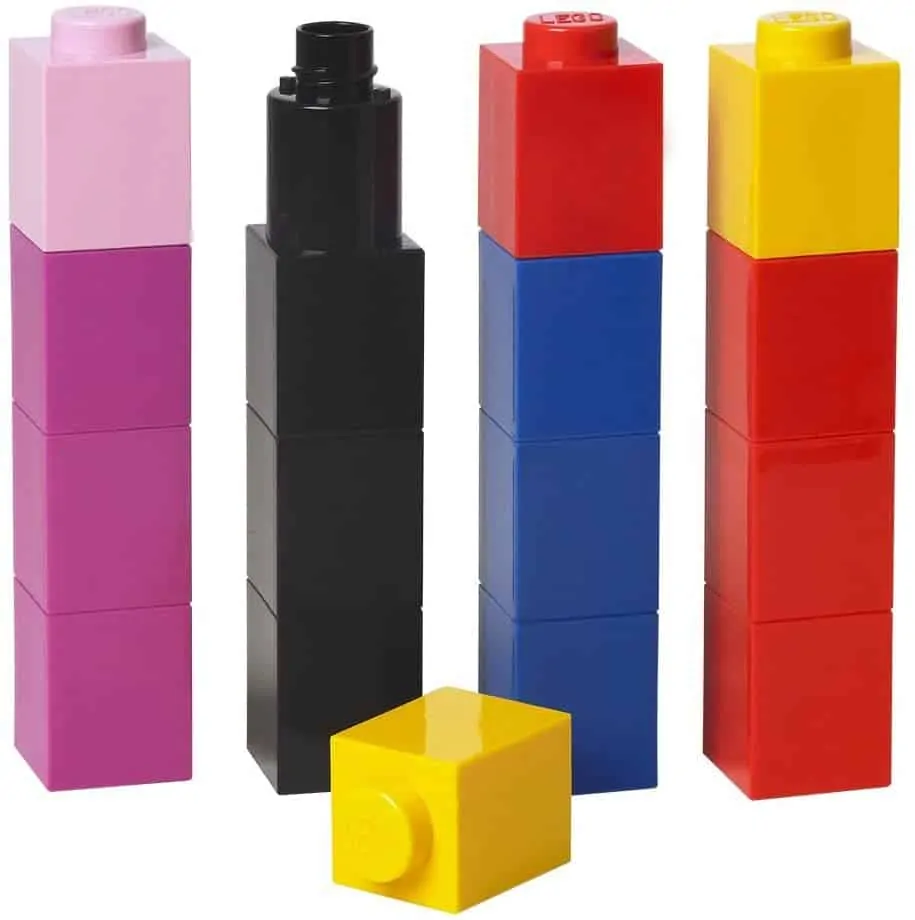 LEGO Drinking Bottle with Iconic Mini-figure head. Plastic-polypropylene, PVC free and food safe. No Phthalates added in Production. No Bisphenol added in Production. Hand wash with soap and water.
Pencils With Toppers. Perfect for School or the Office! 9 Pencils with 4 Brick Toppers That Can Be Used To Attach Your Favorite Mini Figures.
60% Cotton, 40% Polyester. Machine Wash. Officially licensed. Screen printed.
You can request a FREE 2-year subscription Lego Life magazine! Designed for LEGO® fans 5-9 years old, our print magazine features comics, activities, competitions, sneak peeks & the latest LEGO news, all shipped to your door five times a year!

We have lots more Gift Ideas for you too!
Check out the list of the best gift ideas for everyone else on your list too! You could find the perfect gift for everyone and have all of your holiday gift shopping done today.
Check out all of our Saving Dollars and Sense Gift Ideas below:
We also have a fun list of the best Homemade Food Gift Ideas if you'd rather make your own gifts this year.