There are so many unique and creative money gift ideas that making gifting money so much more fun!
You'll find some great DIY Money Gift Ideas below, along with some fun and unique money holders that you can buy, if you're not feeling incredibly crafty.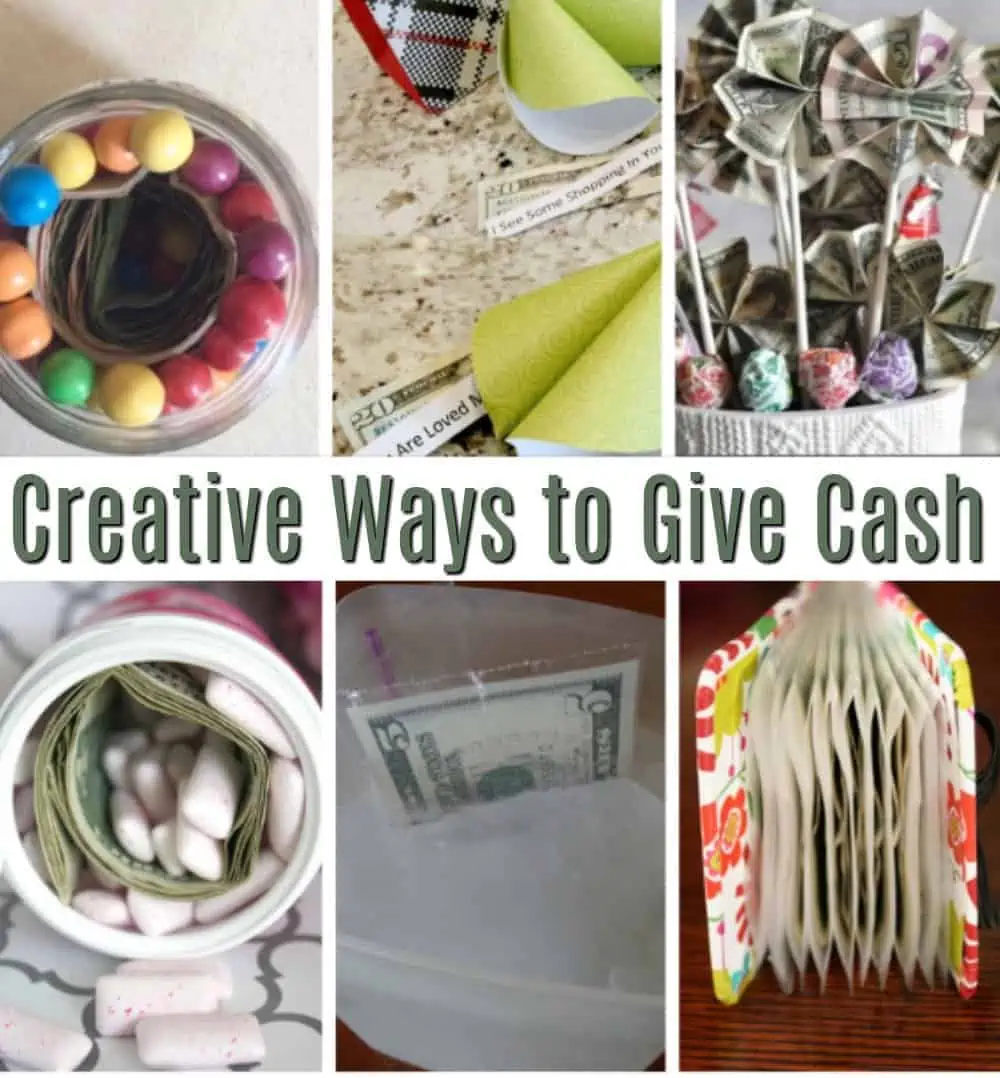 There is one thing on everyone's wish list this Christmas that no one is willing to ask for.
What is it? Cash!
Money Gift Ideas for Christmas
We want to be able to help fund their next trip or give them the money to buy what they want, but there is something really impersonal about just handing over a check.
You need to find a creative way to gift money, especially if you're wanting to wrap money for a Christmas gift.
Here is a list of creative and possible ideas to give someone on your list a little cash this Christmas. You don't have to just write a check and call it a day!
There are so many unique ways to surprise the gift receiver and give them cash at the same time!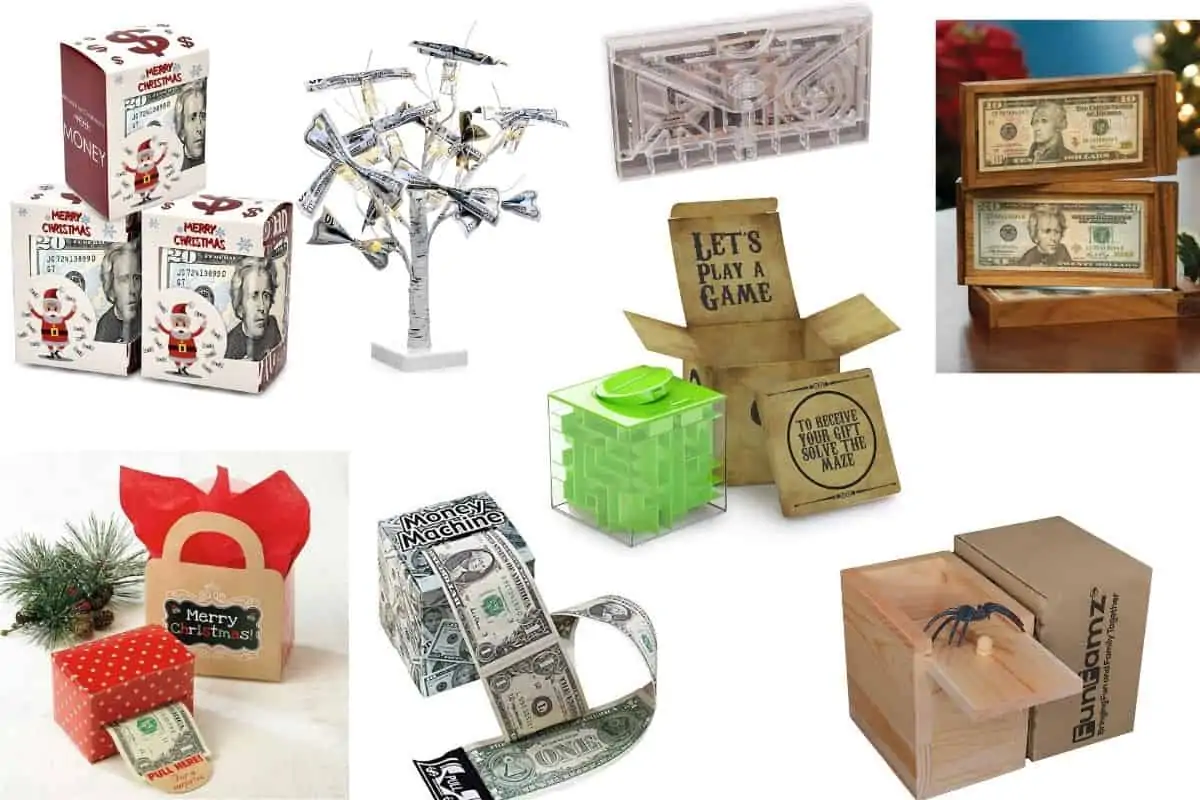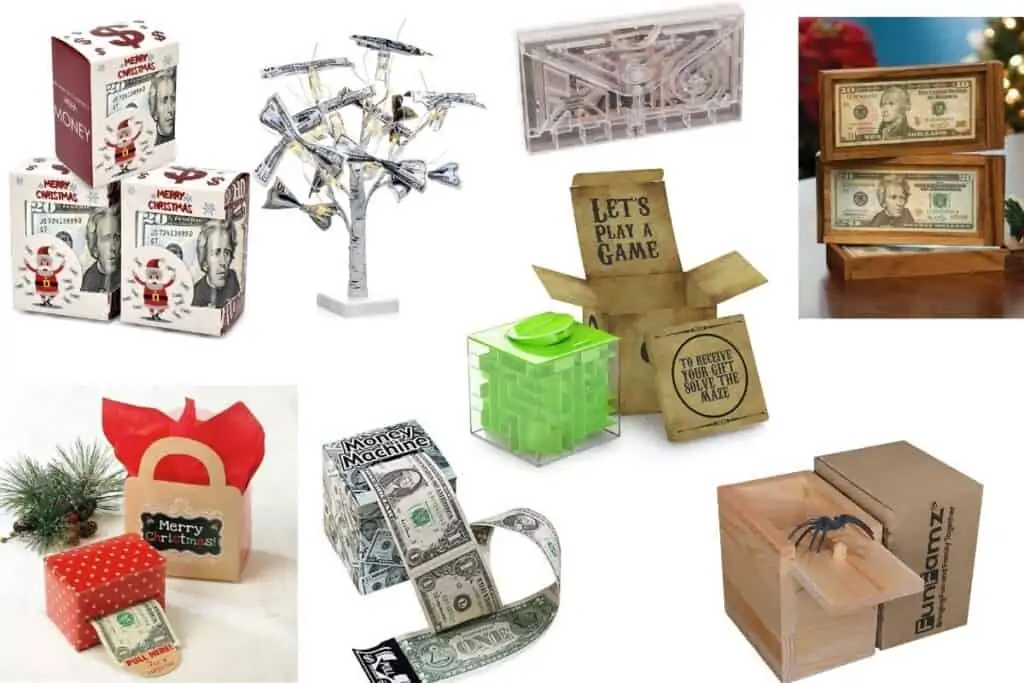 Fun Ways to Give Money
I've rounded up ten ideas if you're looking for a fun way to give money as a gift.
Be sure to scroll down for even more DIY Money Gift Ideas.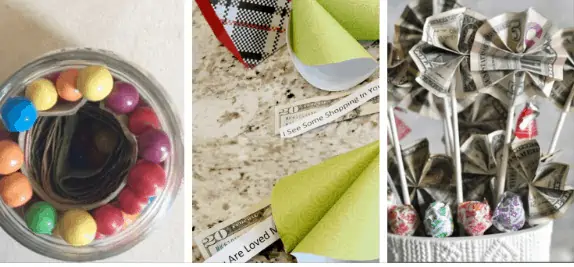 A couple years ago, my son was coming home from the military to spend the holidays with us for the first time in years.
I knew the best thing to give him for Christmas that year would be cash.
Usually, I ship him some gifts, but that year I knew he wouldn't have a lot of extra room to take back gifts when he headed back to his base.
So I knew I was going to give cash that year. Still, I want him to have something fun to open while everyone else was opening gifts.
Thankfully there are a lot of really great ideas for gifting cash that is sure to be a big hit with the receiver. Plus it was a lot of fun watching him open his Christmas Gift that year too!
Creative Ways to Give Money
Here are 15 DIY money gift ideas for Christmas that are sure to be well received!

How to Make Gifts out of Money
Emergency Stache –

This first aid kit "Emergency Stash" is so fun and unexpected.

Money Dispenser –

A Santa favorite! Use seals to join bills, roll, insert into a dispenser, and place it into the 3″ x 6-1/2″ x 9″ handled gift bag.

Fortune Cookie –

You can fold Cash to make it look like a Fortune cookie, then place a fun-filled message inside! "You are Loved More than you know" or "I see Shopping in Your Future" are both cute messages.

Rain Money Gun –

Feeds up to 100 dollar bills and sends them flying across the room.

Sweet and Money Surprise –

This is such a sweet and simple gift idea to put together.

Lucky Lollipops –

Who doesn't love lollipops…and money?

Money Soap –

Money Soap, Real cash in every Soap.

Excitement Money Gift –

This s a fun idea for all ages!

Rainy Day Fund – All you really need is a white umbrella (the paint will show better, but you could try on another color), some fabric paint, some twine + paper clips….oh, well, and a little cash too

Box of Chocolate –

This is such a fun and creative way to give all kinds of different money.

Money Maze –

Put your gift in this puzzle box and make the receiver wait to get your gifts until he/she solves the puzzle

Card Holder Money –

This uses a business card case and could be fun for college students and young adults.

Kleenex Box Money Gift –

No time to get a gift? No problem! Just go get some cash out of your purse, grab an old kleenex box.

Money Topiary –

You know, you want to give something "crafty" but not everyone appreciates crafts, not to mention those that are just hard to give gifts to – this is the solution! Crafty (cause you love that) but when it boils down to it, it's just a pile of money (others love that!).
I love all of the different money holder ideas for cash and this beats just giving the standard gift card that I would usually opt for.
Unlike gift cards, money can be used anywhere and will always make a great gift for anyone.
So the next time you are unsure what to give someone, try one of these unique & creative money gifts.
Looking for more gift ideas?
We also have a fun list of the best Homemade Food Gift Ideas if you'd rather make your own gifts this year.