Looking for the perfect gift to give to the handy guy in your life?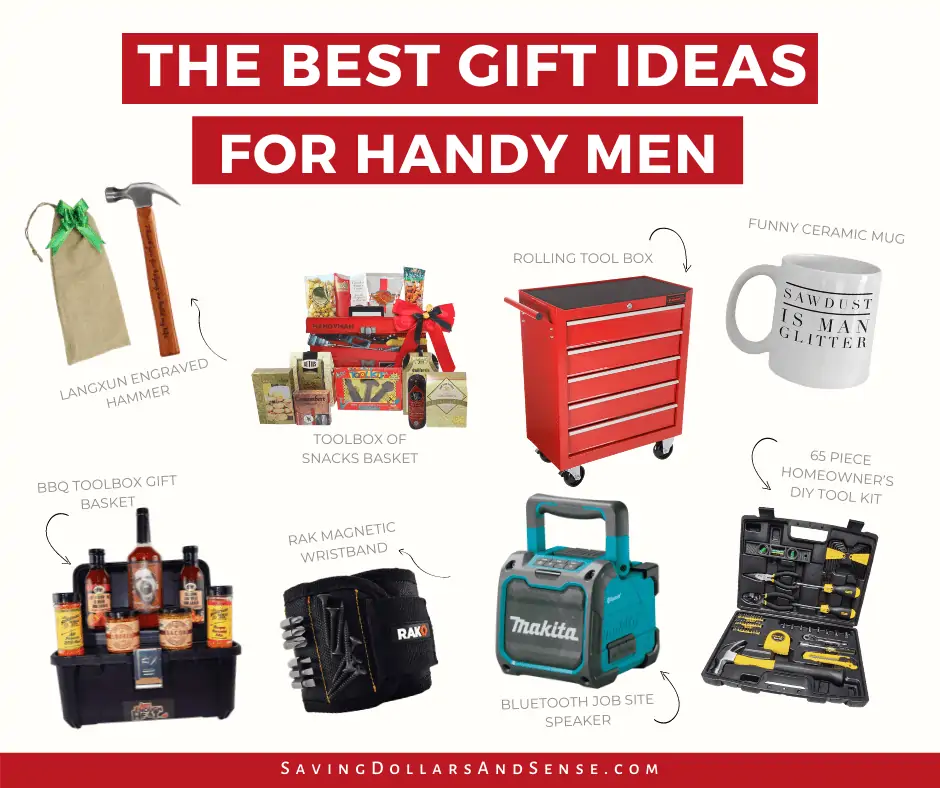 We've rounded up all of the best gift ideas for the handymen in our lives below.
Screwdriver Pen Pocket Multi-Tool By EdgeWorks – Multi-Functional & Sturdy Aluminum DIY Tool, With Screwdriver, Stylus, Bubble Level, Ruler & Phillips Flathead Bit.
Everyone knows THAT guy that can build and fix anything. Give him the perfect socks that have all of the items in his tool chest- hammer, pliers, tape measure, screwdriver, saw, nuts, and bolts. Even if he can't fix everything, he will feel proud wearing his handyman socks. Help him build his sock wardrobe.
No more struggle in hot or rainy or ultra-sunny weather makes this light qualified and usable at all seasons and all the time. Made with high-quality aluminum to prevent damage in rainy or hot weathers.
The sturdy headlamp body tilts up to 90-degrees, allowing you to focus light where you need it. Plus, the 3 light modes ensure you get the exact level of brightness you need for any use through single button control.
The STANLEY 94-248 65 Piece Homeowner's DIY Tool Kit is a must-have toolset with everything you need to tackle a variety of tasks around the house. Whether you're doing basic repairs, hanging pictures or cutting through boxes, this tool kit will equip you with the high-quality STANLEY essentials required to complete many DIY projects.
Comfortable modern fit. Premium quality soft cotton – you will love how this T-shirt feels! These garments are made from super-soft, preshrunk cotton that fits true-to-size. T-shirts make great personalized gifts. Take a look at their full selection!
This BBQ Toolbox Gift Basket is a BBQin' & spicy lovin' handyman's dream come true! Items in the toolbox are not extremely spicy, but they are VERY tasty. Comes with 2 BBQ sauces, 2 BBQ rubs/seasonings, 2 Honey Mustard, a garlic Bloody Mary Mix!
The products come in a real usable toolbox for a unique presentation. Great for Father's Day, Birthdays, Mother's Day or any other gift-giving occasion! Toolbox Includes: Just Enough Heat Asian Ginger & Blazing Chipotle BBQ Sauce, American Stockyard Burger Seasoning & All Purpose Rub, Just Enough Heat Bacon Brown Sugar & Slow Smoked Jalapeno Honey Mustard & Pain is Good Garlic Bloody Mary Mix.
Bring rich stereo sound to wherever the job takes you with the versatile and durable 18V LXT Lithium-Ion Cordless Bluetooth Job Site Speaker (XRM07, tool only). The XRM07 is MP3 and Bluetooth compatible so it will wirelessly connect to mobile devices.
This Langxun claw hammer "Thank You for Helping Me Build My Life." message is carved on the steel hammer of the walnut handle. A polished steelhead and a smooth hardwood handle make for a functional, yet beautiful, hand tool.
Whether on duty or on display, this laser engraved hammer is sure to please. Because every piece of wood is unique, the final engraved product may be slightly lighter or darker than pictured.
Real professionals, real tools, real jobs. Gerber's Center-Drive Multi-Tool is a game-changing addition designed for real life, heavy-duty work. The thoughtful one-thumb opening design allows for quick deployment of the three full-size tools you depend on most: the pliers, the blades, and the screwdriver.
The Center-Drive is revolutionary, introducing an extra-long 3.2 inch magnetic bit driver that opens to align with the center axis of the tool – giving you all the torque and rotation of a traditional screwdriver.
The full-size blades conveniently replace your everyday pocket knife, and the full-size spring-loaded pliers feature an X-Channel Rail System to eliminate rattle and open smoothly. Streamlined to offer the right tools for optimal functionality, the Center-Drive will replace your tool belt in no time.
With this mug you can make your Carpenter lover light up with delight! If you're looking for a gift that your friend or family member will actually use and enjoy for years to come, then check out this Carpenter mug!
The Stalwart Rolling Tool Box is constructed using a red gloss powder-coated finish that resists rust and scratches, so your tool chest will last for years to come. The 5 sets of drawers come with ball-bearing drawer slides that gives you quick and easy access to your tools.
Good for decorating a workspace or hanging in a den, this novelty sign makes a great gift for your handyman. It comes with pre-cut mounting holes for hanging. Printed with ultra-durable inks for a scratch-resistant finish that will last for years.
The BLACK+DECKER LDX120PK 20V MAX Cordless Drill and Battery Power Project Kit is a great power toolset for a variety of home projects. Includes 20V cordless drill, which provides an extra level of control with an 11 position clutch that prevents stripping and overdriving screws.
The lithium-ion battery is always ready and holds a charge up to 18 months. This battery-powered drill kit includes 68 hand tools and accessories and a carrying bag for easy portability and storage. Includes carrying bag for easy portability and storage.
Celebrate the man that can DO EVERYTHING! They fill this toolbox gift box with gourmet goodies, sweets and treats to satisfy all his crunchy cravings.
The RAK Magnetic Wristband is a must-have tool for any person. It's perfect for home improvement, construction, carpentry, auto repair, and many other DIY projects. It's also great for fixing ceiling fans, recessed lighting, HVAC systems, electronic repair, model building, hobbyists, and much more!
The ToolSmart Digital Angle Finder quickly determines the angle of any corner. This tool is especially useful for crown molding and flooring applications to make sure you get perfect cuts every time. The Smart One-Click technology saves all your data straight to the app on your phone.
This Rotary Tool Accessories Kit has something for everyone inside. It features 228 total pieces of multiple tools and attachments with a shank diameter of 1/8″. It comes in a convenient wooden case so you can keep all of the pieces together and organized.
The RAK UNIVERSAL SOCKET is a must-have tool for both the professional and the average person. It instantly adjusts to grip hex nuts, hooks, eye and lag screws, bolt heads, and other various shapes and size objects. Perfect for home improvement, construction, carpentry, auto repair, and other household maintenance.
High-quality tools for the discriminating woodworker. A complete set for virtually every work working requirement– three-dimensional carving, deep relief carving, and whittling.
Set contains No. 5 knife with No. 24 Deburring Blade, No. 18 Heavy Wood Chiseling Blade, No. 19 Angled Wood Chiseling Blade, No. 22 Large Curved Carving Blade, No. 26 Whittling Blade, and No. 27 Heavy-Duty Saw Blade, five gouges, and four routers boxed in a wooden chest. No. 5175.
For more than 65 years, Elmer's Products, Inc. has been providing creative adhesive solutions that support success and turn ideas into reality.

We have lots more Gift Ideas for you too!
Check out the list of the best gift ideas for everyone else on your list too! You could find the perfect gift for everyone and have all of your holiday gift shopping done today.
Check out all of our Saving Dollars and Sense Gift Ideas below:
We also have a fun list of the best Homemade Food Gift Ideas if you'd rather make your own gifts this year.