Are you looking for the best foodie gifts for someone you know this year?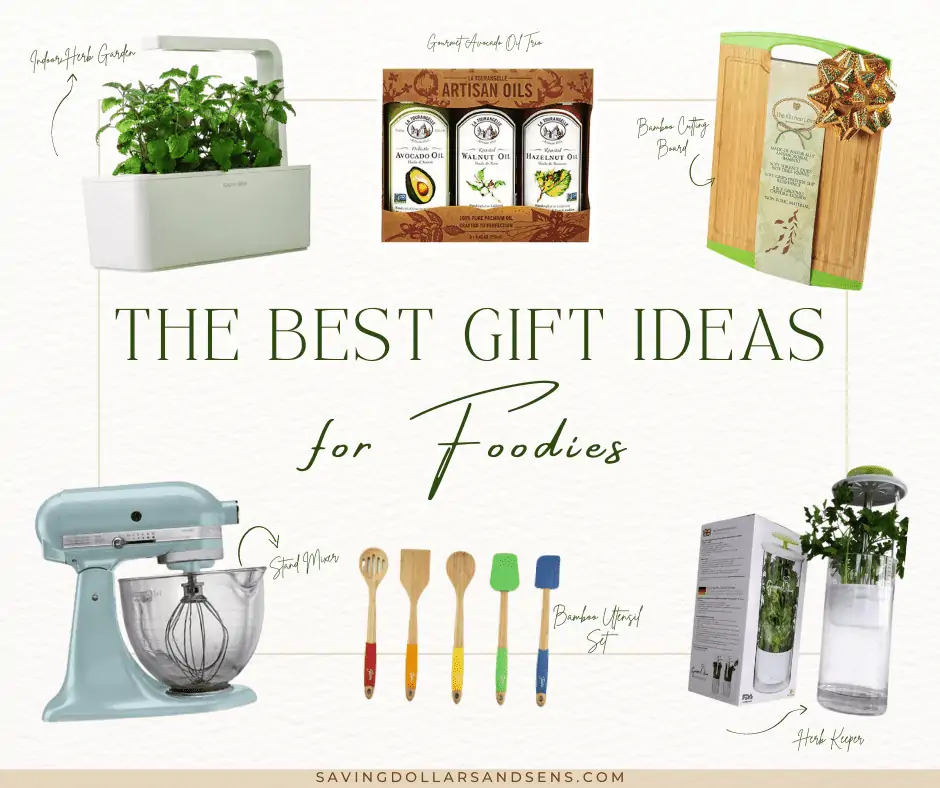 I have to tell you that these are exactly the kind of gifts I would love to get myself…just in case anyone was wondering what to get me this year 😉
The KitchenAid Artisan Design Series Stand Mixer adds radiance to any kitchen with a premium metallic finish and elegant 5-Quart glass mixing bowl.
With 10 speeds, easily make your favorite recipes.
Make your culinary efforts even more brilliant with a countertop appliance that mixes, kneads and whips ingredients together with ease.
For even more versatility, the power hub fits optional attachments from food grinders to pasta makers and more.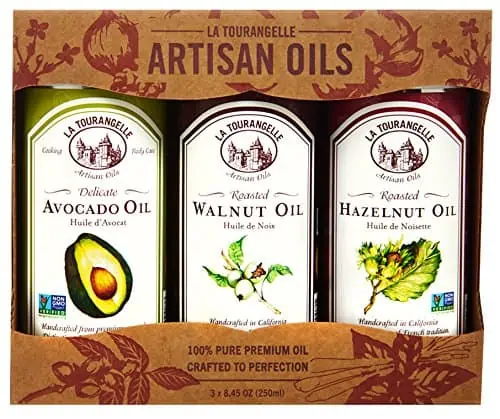 La Tourangelle has created the perfect gift for adventuresome home chefs getting together our best gourmet artisanal oils.
La tourangelle gift set gives enthusiastic home chefs an exciting way of making a wide range of tasty meals from salad dressings to marinades or pasta flavoring to distinctive finishing.
La Tourangelle artisan oils will allow home chefs to show off their kitchen creations with great pride.
Known for their functionality and beauty, each of our products is individually crafted from the finest quality materials.
These unique bowls are made from bamboo wood that is perfect for any decor.
Use them to hold fruit, serve salads, or just to decorate around your home.
Hand wash with mild soap and cool water. Do not soak. Do not put in the dishwasher, microwave or refrigerator.
The Javelin is the gold standard for all digital meat thermometers.
Ultra-fast 3-4 second readings at all typical cooking temperatures make this a truly instant-read thermometer for meats, liquids, candy, and baked goods.
With an accuracy of ±0.9°F, it's one of the best performing digital instant-read thermometer on the market today.
This product is NSF approved for commercial and professional use.
What's old is new. With vivid dots in red, yellow and blue, these bowls are inspired by the New Dots Pyrex pattern from 1967.
The dots, like the bowls themselves, are in gradated sizes for a look that's at once contemporary and nostalgic.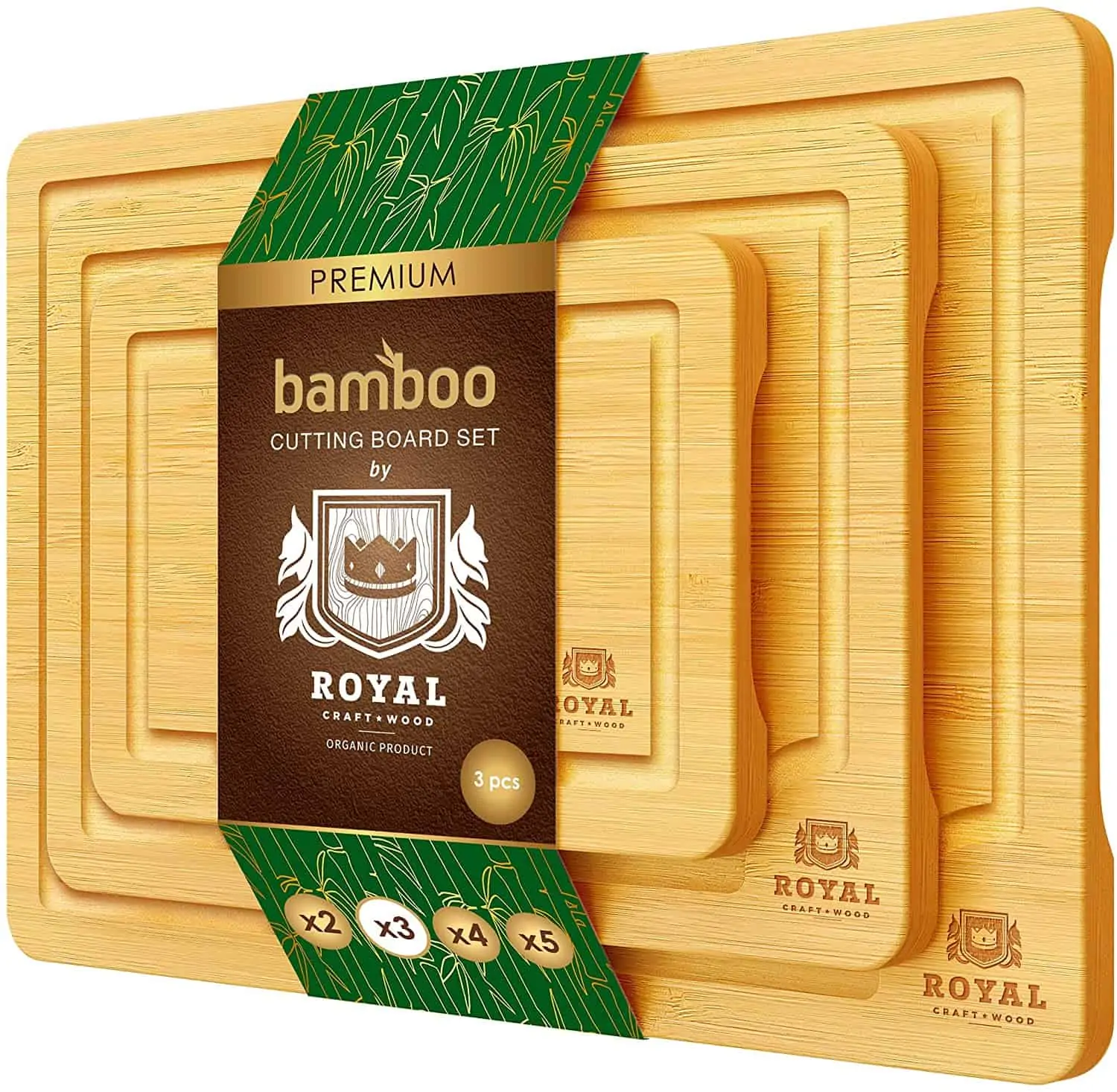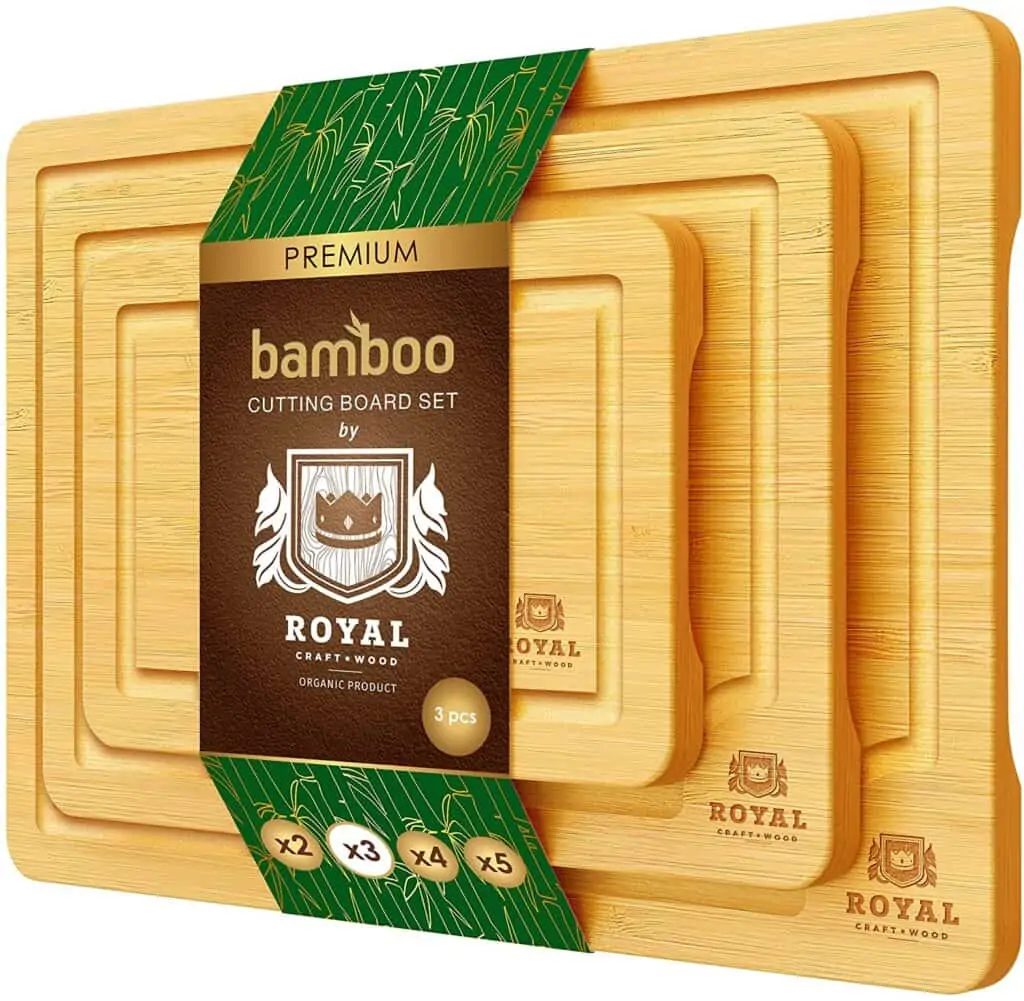 Prep, chop, and serve all in one.
Designed to be a functional cutting board for everyday use.
Both a practical butcher block and elegant spread of your delectable treats.
The Adjustable Rolling Pin will take the guesswork out of preparing pizza and pie crusts, cookies, lasagna sheets, and filo pastry.
The rolling pin has four pairs of colorful, removable discs that raise the rolling pin to the required thickness of 1/16-inch, 1/6-inch, 1/4-inch and 3/8-inch off the work surface.
This clever design will ensure that the pastry or dough is rolled to an even thickness throughout.
The rings can are held to the rolling pin with plastic screws. Also etched into the wood is a width measurement guide.
The pin is made of beech wood and measures 16.5 inches long and 2.5 inches in diameter.
Professional chef results with minimum mess.
One quick swipe of the comb cover removes clinging herbs.
No tedious chopping. Two snips with sharp, finely balanced 5 blades equal 10 knife chops.
One of the most unique fun kitchen gadgets ever. A cool gift for cooks and herb garden lovers.
A butter lover's dream! Once you start using this Butter Keeper, you won't settle for hard butter again!
Holding up to 1 stick of butter, the water in the base seals out air to keep the butter soft, sweet and spreadable for up to 30 days – without refrigeration!
Add a measure of consistency to your kitchen with sturdy and easy-to-read Pyrex glass measuring cups.
Choose from the most popular measuring cup sizes within the various available sets.
Measurement indicators and the easy to grab handle are designed to make it easy to mix, measure and pour.
Whether you are preparing a multi-course meal or simply a snack for one, Pyrex offers products that make food preparation a little easier, from beginning to end.
You will no longer have to use oils or butter when cooking. Baking with these silicon mats is easier and you will get better and tastier results.
Silchef silicon baking mats are odorless and they do not absorb flavors, so you won't taste yesterday's dinner in your baked goods.
Each pack includes two US standard half size baking sheets (16.5″ x 11 5/8″) and one small size 11.5″ x 8.5″ silicone sheet – extra-thick 1.0 mm tear-resistant FDA approved silicone mats.
Celebrate color and function with this 5pc Bamboo Utensil Set.
Renewable bamboo wood construction includes silicone soft-grip handles and heads. Durable Silicone is heat resistant up to 550°F.
Multiple shapes, sizes and material options for convenience and versatility in the kitchen.
Set includes one each bamboo turner, bamboo spoon, bamboo slotted spoon, a silicone spatula, and a silicone turner. Utensils will not scratch your non-stick cookware.
Conquer global cuisine with blends inspired by dishes around the globe from exotic to spicy to BBQ.
Set includes 8 of our favorite all-natural blended spices.
You'll receive their Cajun Street blend and Kansas City Rub, Hungarian Herb Paprika Blend, Thai Heat Stir Fry, Argentina Steak Rub, Kashmir Garam Masala and Curry Row.
Anti-leakage fresh herb container. Free paleo recipe eBook. Herb storage holder keeps herbs fresh and green for up to 2-weeks.
Make your tablet a fixture of your modern kitchen space with CTA Digital 2-in-1 kitchen mount stand.
Bundled with 2 convenient mount-anywhere bases, this tablet stand easily installs on a wall or under a cabinet, or even tucked into the seatback pocket of an airplane seat!
The stand can also be displayed upright with its expanding legs on any tabletop or counter surface.
It features a 360-degree rotating holder, plus multiple pivoting and rotating joints.
Quick-release buttons allow for easy tablet insertion and removal in the adjustable holder, and the stand folds compact for easy storage when not in use.
The 5 different Japanese stainless steel cutting blades are strong enough to spiralize even the toughest fruits and veggies, like sweet potatoes, squash, and ginger root.
You will wonder how you ever got along without your Spiralizer!
The Two Elephants 8-in-1 Multi-Function Kitchen Tool has everything from a funnel and juicer to spice grater and egg separator.
It even has a cheese grater and a cap opener.
The 8-in-1 Kitchen Tool is exactly what every kitchen needs so when you're ready to cook, you don't have to spend time looking for your cooking accessories and can get straight to the good stuff.
The Cook N Home 12-Piece Stainless Steel Cookware Set includes:
1.5-quart saucepan with lid, 1.5-quart casserole with lid, 2-quart casserole with lid, 3-quart casserole with lid, 5.5-quart Dutch oven stockpot with lid, and a 10-inch sauté fry pan with lid.
Made of mirror polished 18/10 stainless steel with an aluminum disc bottom between steel layers.
Love gardening but your space is limited? Get yourself this self-watering garden and grow your own veggies from now on.
Ideal for indoor use, either on the kitchen counter, window or living room. Grow your favorite culinary herbs all year long without worrying about weather conditions!
Although these bowls are not for use in the microwave or oven, they are dishwasher safe and are made of 100% melamine which is a heavy duty material very similar to ceramic but more durable and chip resistant.
They are great for mixing with a non slip gasket on the bottom for safety, or storing items in the refrigerator.
To save space they stack inside of each other when empty or on top of each other with lids on for storage.

We have lots more Gift Ideas for you too!
Check out the list of the best gift ideas for everyone else on your list too! You could find the perfect gift for everyone and have all of your holiday gift shopping done today.
Check out all of our Saving Dollars and Sense Gift Ideas below:
We also have a fun list of the best Homemade Food Gift Ideas if you'd rather make your own gifts this year.