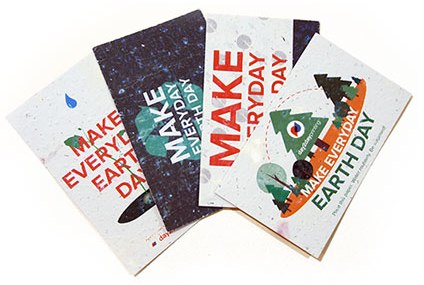 You can request a FREE Set of plantable Earth Day Cards!
You will receive a set of 4 Beautifully Designed Earth Day Cards that are ready to be grown. Plant them or share them with friends and family. These are completely FREE including free shipping.

These Earth Day Cards are planted on plantable paper. Plantable paper is special handmade paper embedded with wildflower seeds. When your Earth Day cards are planted in a pot of soil, wildflowers will grow from the paper.
To plant your Earth Day card paper, first fill a pot with good-quality potting soil, about 2/3 full. Place the Earth Day card on top of the soil, trimming to fit. Cover your card with a thin layer of soil and water well, until the soil and card are evenly damp. Place the pot in a location with plenty of sun and keep moist until the plantable paper has germinated. This process takes about 7-10 days for the seeds to germinate.
During those first 10 days make sure to keep your pot nice and moist.
Once sprouts appear continue to keep your pot moist, but be careful not to overwater. Once your plants appear, water as needed.
Request your FREE set of Earth Day Cards here.
Thanks My Litter!