I am always on the lookout for the latest and greatest fishing gadgets for my hubby.
I know that I can never go wrong with something he can use fishing.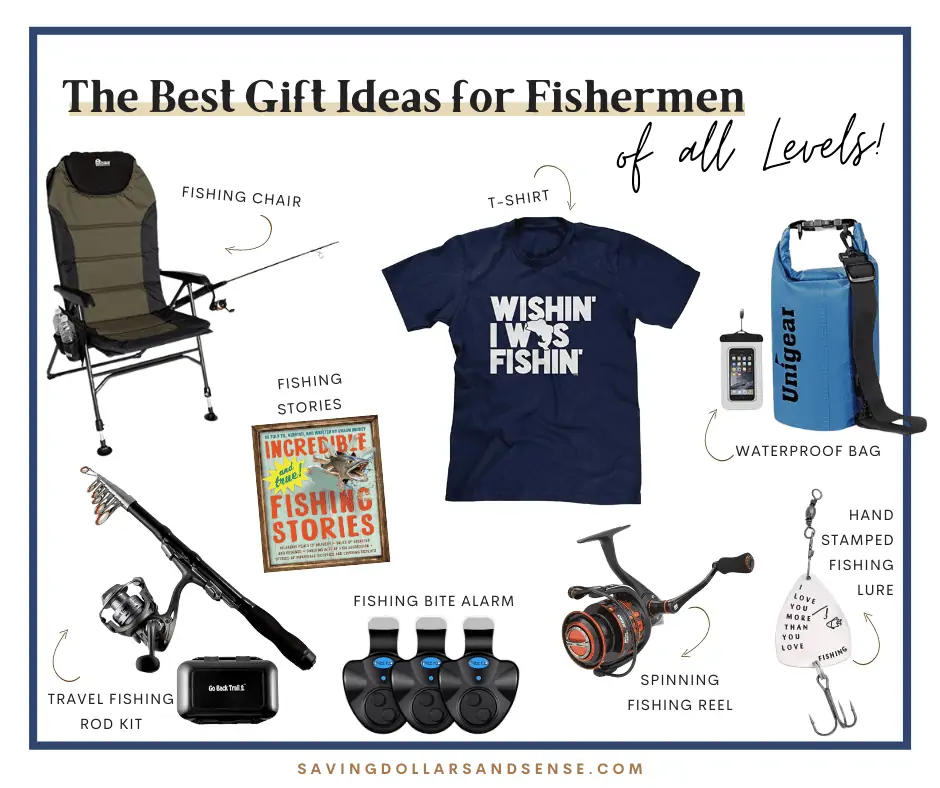 Here are some of the best gift ideas for fishermen of all levels.
Don't miss a good day for some outdoor fun with our wireless forecasting desktop station with a fisherman icon. The convenience of self-setting atomic time and wireless connection with included outdoor sensor from a 330 ft range. Wireless transmission makes it perfect for camping and travel use!
This FREETOO Fishing bite alarm with LED-Indicator will let you know there is a fish hitting at the hook. No matter in daytime, or at night you can set free yourself from staring at the fishing rod, the only thing you need to do is to wrap around this FREETOO Alarm with your fishing line.
Decal is easily applied and removed to any clean, smooth, flat surface. Made of 7 years premium quality outdoor vinyl material, waterproof, self-adhesive.
Decal has a clear application tape over the top for easy application. Once the decal is applied, clear application tape is removed. The only thing to be applied is what appears in white.
Gbond Apparel The Rodfather Funny Parody T-Shirt. The inside neck is stamped with a tagless label showing Gbond Apparel logo & care instructions and hang tags are attached for proof of authenticity and guarantee of original quality.
These revolutionary fishing chairs come with four different back positions and two totally adjustable front legs. Reclines and also fits any sloping shoreline – fishing made more comfortable! Lean back while you cast a line – and have the best fishing chair on the lake.
Quick and convenient when on the go. 25 mm PVC waterproof protection. Interior storage pocket with elastic webbing shoulder straps. Compact, easy-to-pack storage bag included.
Perfect for trout, panfish, bass, catfish and walleye fishing, the Voyager travel reel features ball-bearing drive system inside a corrosion-resistant graphite frame, machine cut brass pinion gear and one-piece anodized aluminum spool. The reel handle can be changed from left- to right-hand retrieve.
What's almost as good as going fishing? Hearing, telling, and swapping great fish stories. Shaun Morey is a fisherman, a connoisseur of fish stories, and a journalist with a novelist's eye (and vice versa) in this collection of over 100 incredible (and true!) fishing stories.
When it comes to fishing, nobody knows more than the writers and editors at Field & Stream magazine–unless it's the local guides, prizewinners, and other experts they interviewed for this book.
The Total Fishing Manual is chock full of 317 field-tested tools, techniques and tactics, collected and written by the Field & Stream editors and accompanied by amazing photos and handy illustrations.
The organizer rack offers storage on both sides, and holds up to hold 16 rods or poles simultaneously. It secures and protects your pool cue sticks, fishing nets, ski poles, croquet poles, golf clubs, fishing rods and more.
Made of stiff 600D PVC material and designed with a roll-top closure, Unigear waterproof bag protects your phones, camera, clothes, documents and snacks from Water, Sand, Dust, and Dirt.
ANTI LEAK AND ANTI TEAR: Features fully welded seams by high-frequency tech, our dry sack provides a stronger and more durably waterproof construction. Abrasion-resistant for long-lasting, perfect for boating, fishing, paddling, swimming, and hiking.
This is a great gift for the fisherman in your life (a great groom gift). Hand stamped fishing lure reads I Love You. Material: Stainless Steel, Silver Plated.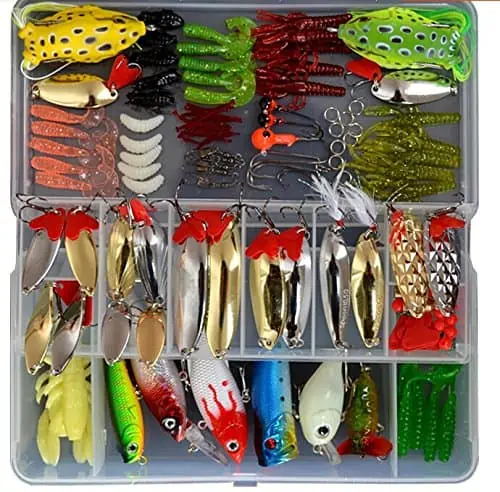 The detailed patterns and life-like Vivid colors Simulate Bait Fish and Steel Ball Bearing Rattles Offer An Aggressive Presentation That Will Give You The Advantage. 6pcs hard lures, 18pcs metal lures, 54pcs soft lures, 50pcs lure accessory. Colors will be sent by random, but not to impact the quality and quantity.
Carbon fiber collapsible telescopic spinning rod & reel kit with pocket tackle box. Anti-reverse switchable on or off, aluminum spool with a line capacity of 4/160, 6/120, 8/70.
Smooth adjustable drag clutch and steel gears. Collapsible handle with left or right hand interchangeable. Short body with a ball bearing drive system.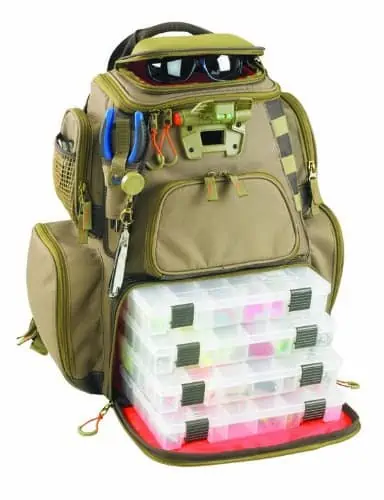 This lighted fishing tackle backpack features an integrated LED light system so you can fish any time of day.
This fishing tackle backpack has a removable plier holder so your pliers go from bag to belt and are easy to find. This fishing backpack features a protective rain cover that can be quickly deployed to keep your tackle backpack contents safe.
Is fishing your mission? Do you hook on the weekends? Are you all about the lake life? Maybe you prefer fly fishing in the river.
The great saltwater versus freshwater debate keeps you and the guys arguing till all hours of the night. But you know the best route to the trout.
You never pass on bass. And you aren't husky, you just have more room for some Muskie. But it's okay because you'll make the hike for some pike.
When you can't be the best fisherman you can be, you can now remember the good times with this fishing fashion. Be proud. But don't be loud, you'll scare off the fish.
Enjoy smooth, reliable operation and versatile castability at an exceptional value with the Abu Garcia Revo SX Spinning Fishing Reel.
This spinning reel is lighter than previous generations of the Revo SX but still maintains the series' signature rigidity. Combining an X-Craftic gearbox design with a C6 carbon body, the reel's IM-C6 design maintains perfect gear alignment even under serious duress–giving you the leverage you need to outlast hard-pulling fish.
Complete set for scaling, cleaning, and preparing all kinds of fish and small game. Stainless steel, super sharp blades provide superior protection against rust and corrosion, as well as, clean and easy cuts.

We have lots more Gift Ideas for you too!
Check out the list of the best gift ideas for everyone else on your list too! You could find the perfect gift for everyone and have all of your holiday gift shopping done today.
Check out all of our Saving Dollars and Sense Gift Ideas below:
We also have a fun list of the best Homemade Food Gift Ideas if you'd rather make your own gifts this year.