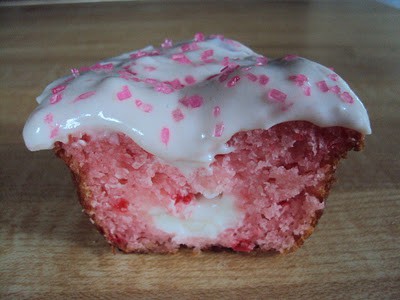 Photo Credit: Flour Me With Love
Basically anything that has cheesecake in the description is going to catch my eye, and this one is no exception. Besides who doesn't LOVE a cupcake anyway?
Ingredients
Cupcakes:
1 strawberry cake mix
2/3 C yogurt (or sour cream)
1/2 C oil
1/2 C water
2 eggs
Filling:
8 ounces cream cheese
6 ounces vanilla flavored yogurt
1/4 C sugar
Frosting

:

8 ounces cream cheese
1/2 C strawberry preserves
1 C powdered sugar

You'll find all of the directions to make these amazing and yet simple cupcakes here.